Christmas markets are an institution in Germany. During the Christmas season, you can see them in every city, town, and village square. Each Christmas market brings its own charm to the holiday season, and each province in Germany has some special flair that it brings to the local Christmas market.
The main attractions at German Christmas markets are the traditional wintertime foods and drinks. The foods are both sweet and savory, with all types of local street foods and baked goods on full display. Hot chocolate, specialty coffee, and spiced mulled wine (called "gluhwein" in German) are the main drinks.
Brilliant light displays and impressive decorations are other features of Christmas markets throughout Germany. They bring a warm glow to the winter nights, and they offer a welcoming and cozy atmosphere for locals and visitors alike. If you would like to photograph these beautiful lights, check out my 8 tips for taking great photos of Christmas lights.
Christmas markets usually open at the beginning of December, though some open even earlier than that. There are performances, activities, and events in the month leading up to Christmas, and all of these are a great way to get a glimpse of authentic German culture. And of course, it's a great way to celebrate the Christmas season every night!
In this article, you'll find:
First: A German Christmas Market Glossary
Here are some important German words that will help you make sense of all that you see, hear, and taste at a German Christmas market:
🍷 Gluhwein: Mulled wine. It's the main attraction and most popular drink at Christmas markets in Germany.
🔥🍷 Feuerzangenbowle: This is a fiery twist on mulled wine, which features a rum-soaked sugarloaf that is ignited and dripped into the mug of mulled wine.
🍪 Lekuchen: Gingerbread. It can be served as cookies, or sometimes as a thicker, more bread-like loaf. It's a key component of many edible decorations, too!
🥜 Mandeln: Roasted almonds. It's one of the most popular nuts that you'll find roasted and candied at German Christmas markets. They're often sold alongside chestnuts, too.
🍺 Pfand: This is the deposit that you pay for the Christmas market mug. If you want to keep the mug, you can! But you won't get this deposit back.
🎄 Weihnachtsbaum: Christmas tree. It's often the main attraction in terms of Christmas market decorations.
🎁 Weihnachtsgeschenke: Christmas gifts. This is the part of the market where you can find presents and keepsakes to share with your friends and family.
👼🏽 Weihnachtskrippe: Nativity scene. It's usually featured in the center of the Christmas market, and it speaks to the Christian traditions in Germany.
🛍️ Weihnachtsmärkte: Christmas market! It's the whole reason you're traveling from city to city and braving the cold winter season in Germany.
Top 5 Christmas Markets in Germany
1. Munich
[See the official festival website for 2022 dates]
Munich's Christmas market is known as "Christkindlmarkt," and it's been held in the middle of Munich's Old Town since 1642. The main attraction of the Munich Christmas market is gingerbread, which is famous throughout Germany and the world. Vendors craft intricate scenes with gingerbread and fruit; they're almost too lovely to eat!
You can catch a free concert on the balcony of the Town Hall every evening when the Christmas market is open, and there are also other events and activities for the whole family hosted throughout the season.
2. Dresden
[See the official festival website for 2022 dates]
The Dresden Christmas market, called Striezelmarktzeit, is the oldest in all of Germany, dating back all the way to 1434. It is home to a giant Christmas pyramid, which is the main feature of the city square's Christmas decorations. It also features the world's largest nutcracker, which is a nod to the delicious varieties of roasted nuts that the market has to offer plus what the festival organizers call "probably the world's largest walk-in candle arch".
Dresden is famous for its Christmas cake, called "Stollen." Every year, the city comes together to make a huge Stollen that has broken world records!
3. Nuremberg
[See the official festival website for 2022 dates]
The Nuremberg Christmas market is held in the heart of the Old Town. The opening day of the market is a city-wide event, with one local girl chosen to be the Christmas Angel. This young girl reads from the balcony of the Nuremberg Cathedral to kick off the Christmas market celebrations. This market looks a bit different from others because it comprises more than 180 traditionally built huts. In fact, locals have taken to calling the market "our little town of wood and cloth," and the cozy sense of home is pervasive throughout the whole Christmas market.
💡 Hint: The Nuremberg Christmas Market is the home of Spekulatius cookies- yes, the cookies made famous by Trader Joe's Speculoos Cookie Butter
4. Berlin
[See the official festival website for 2022 dates]
Berlin hosts more than 60 Christmas markets and gift fairs every year, and all of them are worth visiting. Most city squares feature some sort of Christmas market, and there are countless events throughout the city during the Christmas season. If you can't hit two or more markets every night in the month leading up to Christmas, then be sure to check out the Gendarmenmarkt, which features the most historic and traditional celebrations in the city. It's nestled between the French and German Cathedrals in Friedichstabe, where you can watch craftspeople creating toys, jewelry, and traditional arts and crafts of Germany.
5. Cologne
[See the official festival website for 2022 dates]
The main Christmas market in Cologne is located right in front of the Cologne Cathedral. It features impressive decorations, with the nativity scene right in the middle. This Christmas market is most famous for hosting the largest Christmas tree in all of Germany, which is no small feat! It is brightly lit and intricately decorated, too. Be sure to enjoy the free concerts every evening in the space in front of the cathedral, and events throughout the month leading up to Christmas.
Christmas Market Souvenirs
German Christmas markets are great places to find local arts and crafts, which make great souvenirs. Consider getting a decorative piece or Christmas ornament that you can incorporate into your Christmas decorations for the years to come. This way, you'll have a reminder of your Christmas trip to Germany every time you celebrate!
You can also use your hot drink as a starting point for a great Christmas market souvenir. Every vendor at each Christmas market has their own special recipe for gluhwein, and the cup of cheer is usually served in a collectible mug.
When you buy a hot drink, you pay a deposit for the reusable ceramic mug. The mug is decorated to represent the city and year of the Christmas market, and after you finish your hot drink, you have a choice. You can either return the mug and get your deposit back, or you can forfeit the deposit and keep the mug as a special souvenir of your German Christmas market experience!
Visiting Christmas Markets as a Solo Traveler
Many solo travelers enjoy exploring Germany's Christmas Markets on their own, but it's worth noting that destinations observing especially-traditional Christmas celebrations can be difficult places to visit alone. For many, these family and couple-centric Christmas vacation destinations can be tougher to visit than spending Christmas on the beach or exploring parts of the world where the Christmas holiday is not widely observed.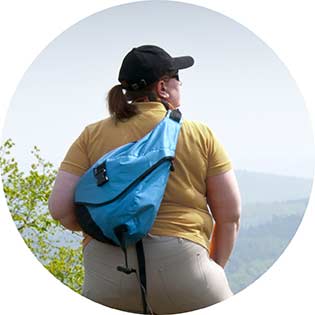 Artist, digital nomad, and highly sensitive person, Lynli started traveling full time as a digital nomad in 2018. Writer and Illustrator by day, remote-destination explorer by other-days, Lynli is passionate about pushing the boundaries of her own comfort zone, exploring the world as a plus size, one-bag traveler, and journaling it all on WanderBig.com