Christmastime means a lot of things: the tree, the food, the family, and, of course, traveling! One thing that you can see in cities and towns around the world is brilliant light displays during the holidays.
Whether it's personal homes emblazoned with lights or festive city squares, photographing these displays can be a bit tricky. It's an art and a science; here are our top eight tips for taking photos of Christmas lights, no matter where you find yourself this holiday season. I learned to take great photos of Christmas lights during my seasons working in downtown Seattle at Christmastime.
1. Timing is Everything
When you're taking photos of Christmas lights, it's important to catch them at the right time of day. While you may think that the middle of the night in the absolute dark would be a great time to capture the beauty of the lights, dusk is actually the best time to get great photos of Christmas lights. This is because the ambient light of the sky can help to balance the lighting in the shot.
Even with a cellphone camera or a cheaper camera model, you'll be able to get photos that really capture the brilliance of the Christmas lights, thanks to the soft light shining behind them. This also means that you won't have to use a long exposure to capture the scene, which is especially great if you don't have a tripod handy.
Dusk in the wintertime is also usually a less crowded time on the streets, which can make for better, cleaner composition for your photos of Christmas lights. Be sure to set aside one evening for photography on your trip; you won't be disappointed with the results!
2. No Flash!
When it comes to taking photos of Christmas lights, the flash is not your friend! You should never ever use flash when you're photographing light displays because it will whiten out the lights. Plus, it will make anyone standing in the photo look like a pale ghost, even if they're standing behind the Christmas lights.
Plus, the popping flash is a huge distraction from the Christmas lights, and it interrupts the festive atmosphere that those lights create. Before you take that first shot, make sure that your flash is completely turned off, and make sure that it stays off for the duration of your Christmas lights photo shoot.
3. Use "Tungsten" for White Balance
Many cameras will have a setting or feature that allows you to adjust the white balance in your photos. This setting essentially tells the camera what color lighting the aperture should expect, and "how white" that light will be.
If your camera has the option, make sure that the white balance is set to "tungsten." This will help your camera see and identify the Christmas lights better, rather than treating them as a source of competing light.
4. Don't Forget the Tripod
Taking photos of Christmas lights can be a delicate endeavor. Since you'll likely be using a longer exposure, it's good to use a tripod to keep your camera absolutely steady. The slightest movement can cause a really blurry photo. If you don't have a tripod with you, you can get creative with ways to keep the camera still and balanced for your photos. For example, a table, a bench, or even your camera's internal stabilization mechanism can be sturdy alternatives to a tripod.
5. Come Prepared with Backup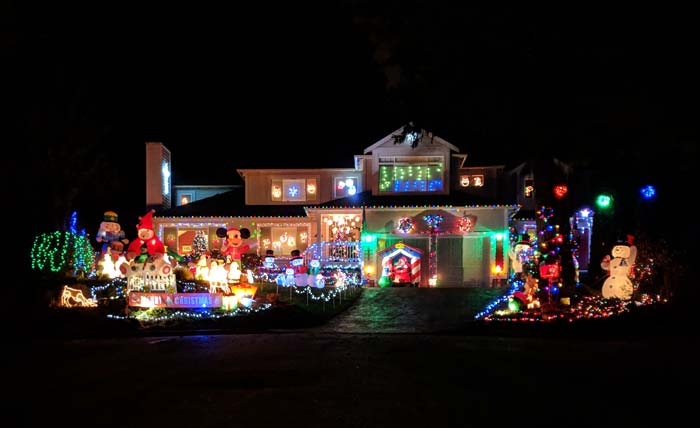 There's nothing more disappointing than being in a totally photo-worthy place – with dead batteries! Make sure that you bring extra batteries and/or a power bank so that you can keep clicking away and taking photos of Christmas lights all evening long. This goes for memory cards, film, and any other equipment that you need to take photos.
6. It's Not Only Lights
Remember, even though the Christmas lights are the main attraction, there are also lots of other photo-worthy things in and around the display. These can include buildings, other decorations, and people. Make sure that you adjust your settings to capture the whole picture. You can leave the exposure open just a bit longer if you find that these other things aren't showing up as well in your photos; this can add more structure and depth to your frame, which makes for a better photograph overall.
7. Long Exposure is Fun!
If you don't have a tripod, this tip is especially for you. It can be fun to have some abstract and blurry photos of Christmas lights; not every photo has to be a clear depiction of exactly what's in front of you. To get those blurry and artistic shots, set the exposure for several seconds. Then, move the camera around while the aperture is open and focused on the Christmas lights. The result will be a hectic and hazy view of the lights display, which can be a fun new way to view it!
8. Get to Know Your Settings
Make sure to read through your camera's user guide and look for settings that are specifically designed for "night" or "dark/indoors." These presets can be a great starting point for adjusting the balance and exposure to get the best photos of Christmas lights.
If you're using a smartphone camera to snap photos of Christmas lights, you can easily try several different settings and preset filters. Take a minute to go through these settings so you can find the best one for whatever scene you're trying to capture. Throughout the evening, keep trying the different settings and filters. This way, you definitely won't miss your perfect shot for social media!
Main Takeaways
The biggest keys to getting good photos of Christmas lights are to keep the flash off, hold the camera steady, and make sure that buildings, people, and other objects in the frame are sufficiently visible. Playing with settings such as the white balance and exposure can help you reach that perfect balance. If these tips leave your Christmas travel photos lacking, consider taking an online course on nighttime photography from a platform like Udemy.