My passion for solo travel started in 2015 when I had the opportunity to take a huge once-in-a-lifetime-trip and I didn't take it. Fear about traveling alone coupled with the timing of other adventures resulted in me passing on the opportunity and thinking back often, wondering what I'd missed.
Thankfully, life is cyclic and 2 years, one cross-country move, and a master's degree later, in 2017 I began traveling solo all around the world. With each trip after that first amazing adventure in Florence, Italy, I found my bravery increasing in all sorts of adventures: so farther and farther I've gone, visiting increasingly remote destinations and finding in my solitude so much freedom.
The more I travel, the more I hone my packing list, and although I've created a complete solo female packing list and shared it in another post, lately I've been thinking about the resources, ideas, and products that were the most useful to me while solo traveling abroad- the certain few essentials that I will never, ever travel without once they found their way into my bag.
Since a few of these essentials are unique ideas I've not seen in other essential travel packing lists on other travel sites, I thought I would write a quick rundown of a few of the unique products and practices I use when I'm on the road as a solo female traveler. As a reminder, the hosting costs of this site are offset by affiliate earnings- so while I'd recommend this list in any case, some of the links below do offer me a small referral fee if you purchase.
The following section may contain affiliate links. As an Amazon Associate, we earn from qualifying purchases.
1. Activated Charcoal Food Poisoning Remedy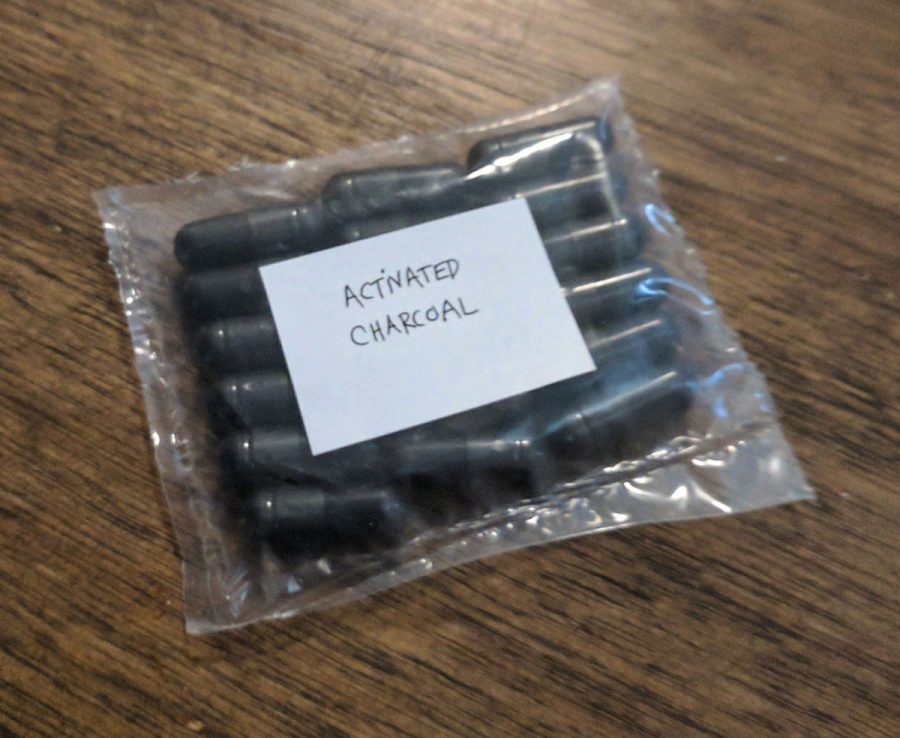 Activated charcoal is the first and least invasive emergency medical treatment when a person has ingested poison. While I definitely hope never to be poisoned on the road, I keep these pills close. (shop for activated charcoal at Amazon) Activated charcoal is an inert substance that binds to gas, chemicals, and- some research suggests- even bacteria or viral culprits. (Just don't take charcoal within an hour or two of prescription medications- it may absorb and neutralize them).
Charcoal capsules are inexpensive, tiny, and indispensable on the road. If I feel the faintest rumbling of traveler's upset stomach, I pop three or four of these and- knock on wood- each time I have felt okay again within a half-hour. In fact, I may have been the only person to spend 3 full months in South America without ever suffering the effects of travelers diarrhea, thanks to pretty liberal use of both charcoal capsules and individually wrapped Pepto Bismol tabs (the latter of which, taken daily, reduces the risk of developing travelers diarrhea according to this medical journal article).
Packed inside a first aid kit, activated charcoal capsules take up very little room and is my absolute top, can't-leave-the-country-without-it travel essential. I like to package them in sealed and well-labeled bags and have never had an issue with security clearance.
(As a bonus, activated charcoal provides industry-leading odor absorption, so if your travel shoes get The Big Stink, just pop open a capsule in a bit of tissue paper and let shoes sit overnight)
2. Turkish Towel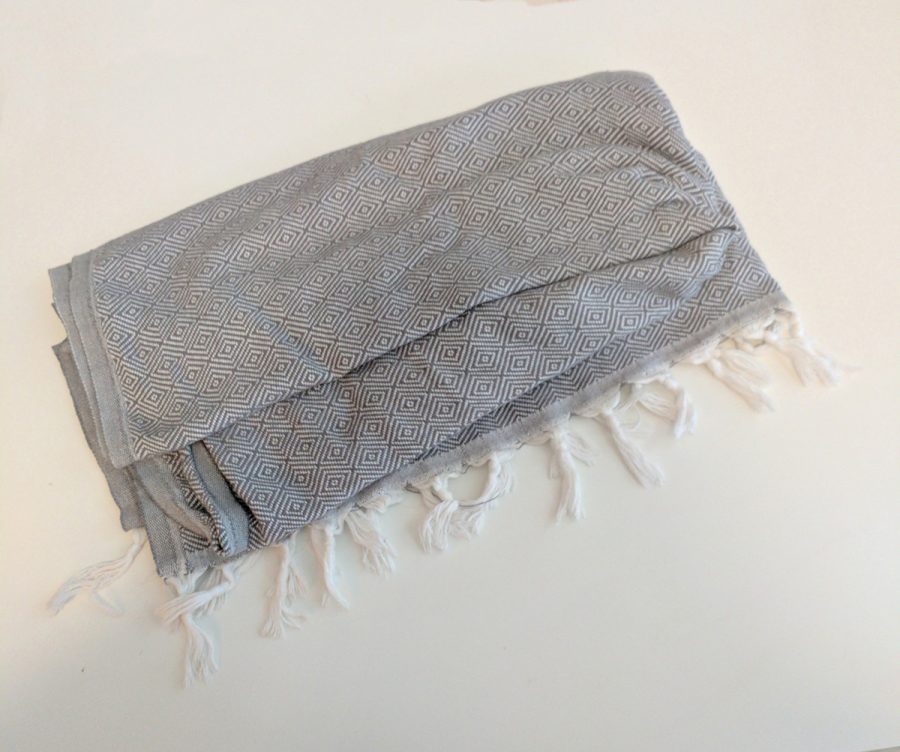 A Turkish towel (shop options here on Amazon) is a workhorse on the road. This towel/sheet/blanket is a must. I'm a minimalist packer. It is important to me to cover a lot of ground in my travels, rather than plant in one location long term, so I pack a bag that accommodates that convention – only the essentials. I will never travel without the Turkish towel – this extra-large, extra thin cotton fabric sheet is a bit like a cross between a bedsheet and a towel. Thin, absorbent, and about the size of a beach towel, I regularly use this towel 6 different ways in a single day of travel:
1. Beach towel
2. Blanket
3. A cover-up for when I'm visiting religious sites
4. Lumbar or neck support (*perfect* size when rolled)
5. A towel – usually softer and more full-body accommodating than my lodging's towels
6. Depending on your body shape, you may be able to style it as a skirt, top, or scarf.
3. Lanyards and 4. Carabiners
Lanyards and Carabiners are two essentials in my travel kit – I can't imagine travel without them! I pack 3-4 brightly colored lanyards and use them to keep track of many easily lost things – like hotel keys and my wallet.
Lanyards are like tying an anchor flag on your easily lost belongings – they are infinitely easier to find and fish out of a bag when you need them. (And since returning to the hotel at night is a high-risk time for a female solo traveler, making my keys easy to find is a safety must)
A lanyard can also be used to link my wallet to my body or bag– so my wallet can't get accidentally left behind or pickpocketed by anyone other than a pickpocket committed to a more-than-average amount of fiddling.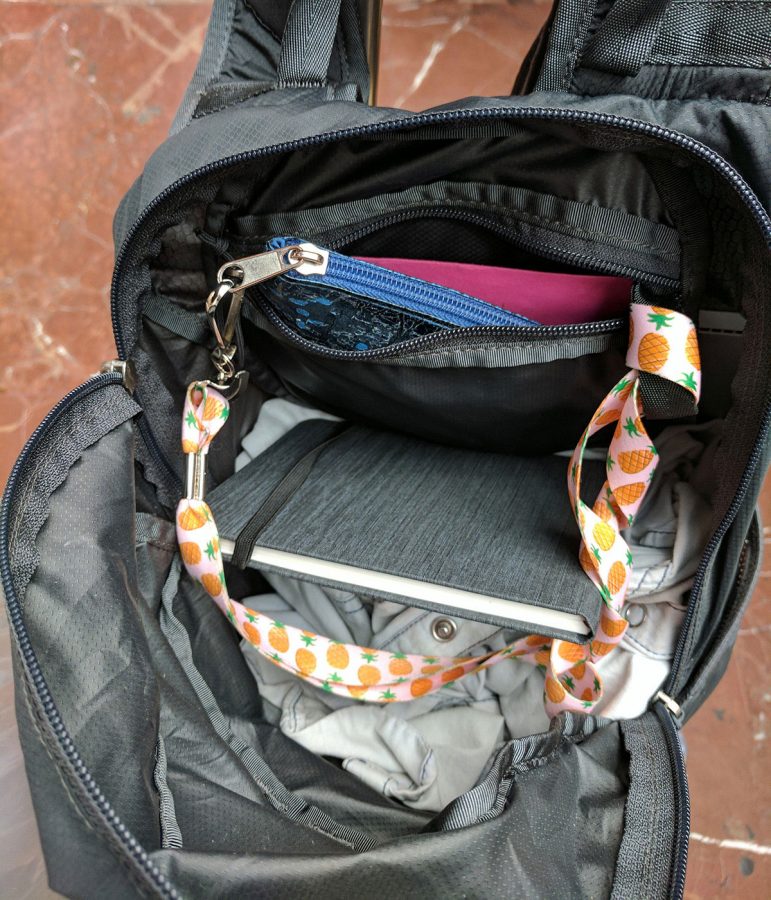 A carabiner and a lanyard are an easy way to anchor my belongings. I'm convinced that avoiding theft is 30% luck and 70% of preventing theft is in making myself an inconvenient target – so when I'm sketching in a café, or snoozing on a train, I try to remember to ALWAYS tie my bag to something static, preventing snatch-and-run theft.
Lanyards also work great for trains, planes, and buses where luggage is handled by baggage handlers. When my solid black bags leave my possession, I clip brightly colored lanyards on the outside so my bag is distinctive from other black bags and is immediately recognizable. I get my crazy-patterned lanyards from TwistedNotions.com
5. Flip-Latch Pill Containers
Able to organize 2-3 weeks of medication in a palm-sized container that folds in a way that totally prevents spilling, this flip-fold pill container has been with me – at home and abroad- every day for the past 5 years.
Navigating pharmacies abroad is tricky at best and dangerous at worse. Because I'm ok with adventure in just about every area except pharmaceuticals, I try to carry a small assortment of over the counter medications. This flip-fold pill container has been 100X more useful than pill storage options that can accidentally come open or require significant fiddling to open.
6. Personal Security Alarms
Enjoying a trip means resting well at night, and resting well in sometimes questionable lodging means being able to calm my brain's travel-induced hypervigilance. For me, a small investment in personal safety goes a long way towards better rest and, thus, an overall better travel experience. I use two types of personal security devices:
Sound Grenade – This device emits a deafening squeal if pulled apart, so to soothe my mind before bed, I usually place it (tethered to a lanyard) around the headboard or connected to something on a night table- so sounding an alarm is as easy as grabbing and pulling.
Portable Door Alarm – THIS is the alarm that has made many nights of sleep in questionable lodgings possible. Extremely adaptable to all sorts of weird and unusual door configurations, this alarm (pictured below) is inserted between door and frame and emits a siren if the door opens before it is disarmed.
5. Phone Case with Wrist Strap
I will. 👏 not. 👏 travel. 👏 without a phone case that accommodates an adjustable wrist strap!
This wrist strap is everything: the freedom to get the perfect photo angle by holding your phone out over water, peace of mind on public transit knowing the weight on your wrist means your phone is secure, and protection from snatch-and-grab theft while you are cluelessly navigating your way through an unfamiliar neighborhood.
You might need to upgrade your phone case in order to get a wrist strap connection point but that's not a bad idea anyway. Waterproof and drop-proof usually include an anchor for wrist strap attachment, lifeproof cases definitely do as of the publication of this post.)
6. Battery Backup
Traveling with the freedom of Google Fi means I'm constantly navigating, renavigating, and photographically draining my phone's battery. During long days, this risks running a battery down, so I usually take two small battery packs with me when I travel. I prefer two smaller chargers over one giant one for the sake of weight- I leave one in my lodging to charge while I'm adventuring with the second.
9. Single Packs
When I owned a tack store in my 20's, we developed a tiny kit for competitors containing single-packs of all the things you "probably don't need but might wish you had." Solo travel has many things that fall into this category and while you can't bring a travel-sized-bottle of everything, for some items a single-pack equivalent is the solution. Website minimus.biz specializes in sourcing single-packs. A small pouch filled with tiny, securely sealed, and labeled single-use products has brought a lot of comfort and saved me time and money!
10. Sleep Stuff
No matter how light I'm packing, my sleep essentials make it in. Read more about my sleep kit and how to make your own. It's (almost) guaranteed to work even in a loud shared hostel room.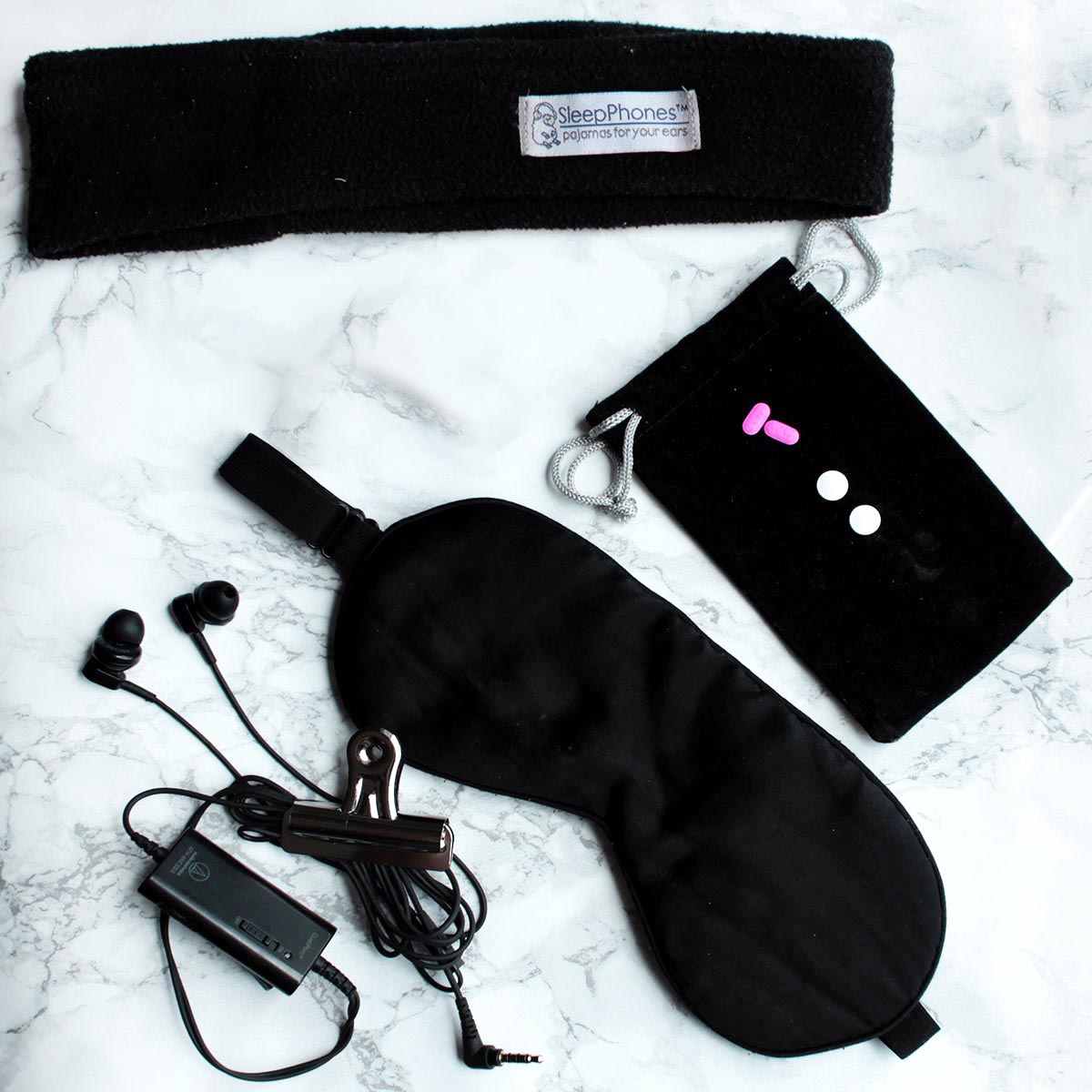 11. DIY Hair Removal Strips
A tough part of female solo travel is missing the rhythms of beauty rituals. Many beauty rituals can be done on the road or simply skipped until your return, but for me a few are essential: like removing unwanted hair before it's noticeable. That's why I created instructions for making your own travel-friendly wax strips.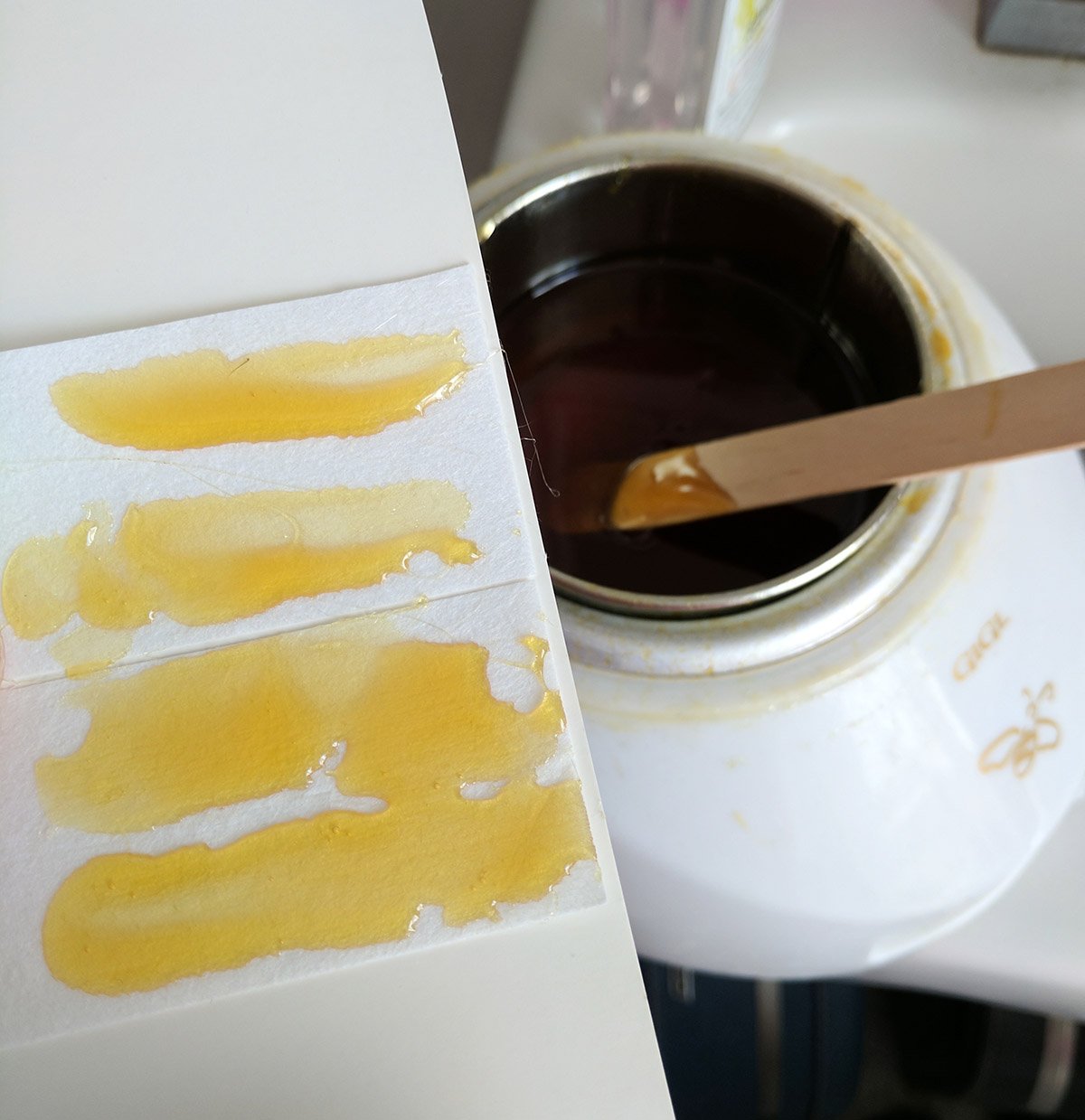 12. Travel Art Supplies
Solo travel is a time for experimenting, so even if you don't consider yourself an artist, consider taking a few small art supplies to use in your travel journal. Sketches or watercolors are a way to mindfully study your surroundings and experience travel with even more senses. When dining at restaurants, a time that can be challenging for many solo international travelers, watercoloring the day's sketches- or making new ones- is a great way to enjoy a long dinner with less self-consciousness. I put together a list of my favorite supplies for a travel art journal over on my art website.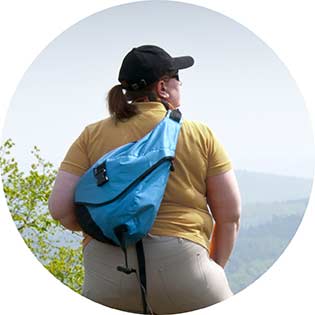 Artist, digital nomad, and highly sensitive person, Lynli started traveling full time as a digital nomad in 2018. Writer and Illustrator by day, remote-destination explorer by other-days, Lynli is passionate about pushing the boundaries of her own comfort zone, exploring the world as a plus size, one-bag traveler, and journaling it all on WanderBig.com