Getting a good night's sleep while traveling is challenging for most sleepers. If you have a bit of insomnia back home, sleeping while traveling can be even more difficult.
While lying awake in your own comfy bed back home is unpleasant, laying in a hostel dorm staring at the bunk above you and listening to people snore for hours on end can feel like torture. As a quasi-professional traveler, diagnosed insomniac, and sleep hygiene educator, I've spent both many sleepless nights in faraway countries and done extensive research on sleep, falling asleep, and sleep quality.
Here are my tips for sleeping well while traveling- no matter your age or travel style.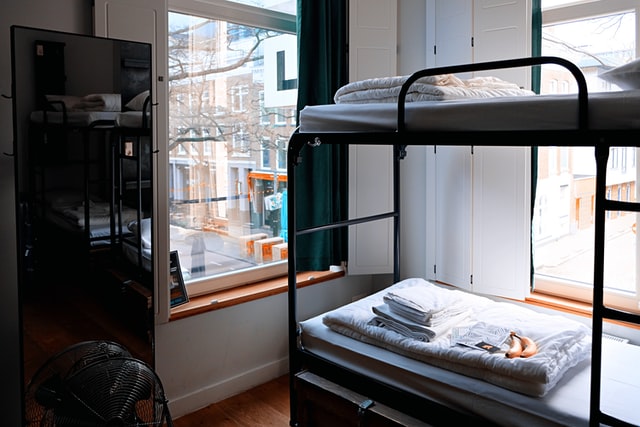 How to Get Great Sleep in Hotels, Hostels, & Anywhere Else
If you can't sleep, get up.
Sleep researchers have found that one of the best ways to fall asleep is to get out of bed!1 Getting up, exiting your bed, and doing a calm activity for 30 minutes tends to be more effective at putting us to sleep than lying awake in bed for those 30 minutes.
What should you do if you are in a hostel dorm and can't get up without disturbing someone else? Step outside. Spend some time exploring books in the hostel bookshelf or putting together a puzzle in a common area. If it is safe to do so in your location, step outside or go for a walk. If you leave your hostel in the night, leave a quick note on your bed or tell someone at reception where you are going and when you plan to be back.
The following section may contain affiliate links. As an Amazon Associate, we earn from qualifying purchases.
Bring your own pillowcase
Part of the reason that we don't sleep well in hotels, hostels, and Airbnbs is a lack of comfort. Although our sleeping spaces back home are carefully curated with mattresses that feel good, soft linens, and a couple of pillows that are "just right," when we pay for lodging we often get poor quality or worn-out bedding that just isn't comfortable.
One way to sleep better in hotels, dorms, and airbnbs is to bring your own sleep-related comfort objects to help you get a good night's sleep anywhere. Bringing a pillowcase from home is one of my best travel hacks: it can serve a number of purposes on the road (laundry bag, packing cube, etc) and always ensures that you'll have a comfortable, familiar, and clean pillowcase to sleep on. When you get to a new location, just slip your pillowcase over the bed pillow that is provided. Alternately, if I find myself in an air B&B without sufficient pillows, I stuff my pillowcase with throw pillows or even clean clothes so I have an extra pillow.
If you have sensitive skin or struggle with acne, packing your own pillowcase extra benefit: ensuring that you have a clean pillowcase that hasn't been washed with harsh or heavily perfumed detergents. By picking a pillowcase with a texture that is soft on your skin (some acne sufferers swear by a silk pillowcase) you can help keep your skin clear during your travel.
Create a Travel Sleep Kit
A few times I've traveled abroad for a few weeks with my older brother as a companion. As siblings, we're comfortable saving money by doubling up in one room, but as light sleepers and both occasional snorers, we were both forced to learn creative ways to sleep in strange places.
Here's my list of 5 Products I pack on every trip that almost guarantees I can sleep through anything. These are not paid placements, but are actually products I recommend.
Clockwise from top, my favorite sleep aids are: 1. SleepPhones 2. Benadryl & Melatonin 3. A (really good) Eye Mask 4. Noise-Cancelling Headphones 5. WhiteNoise App (Not Pictured).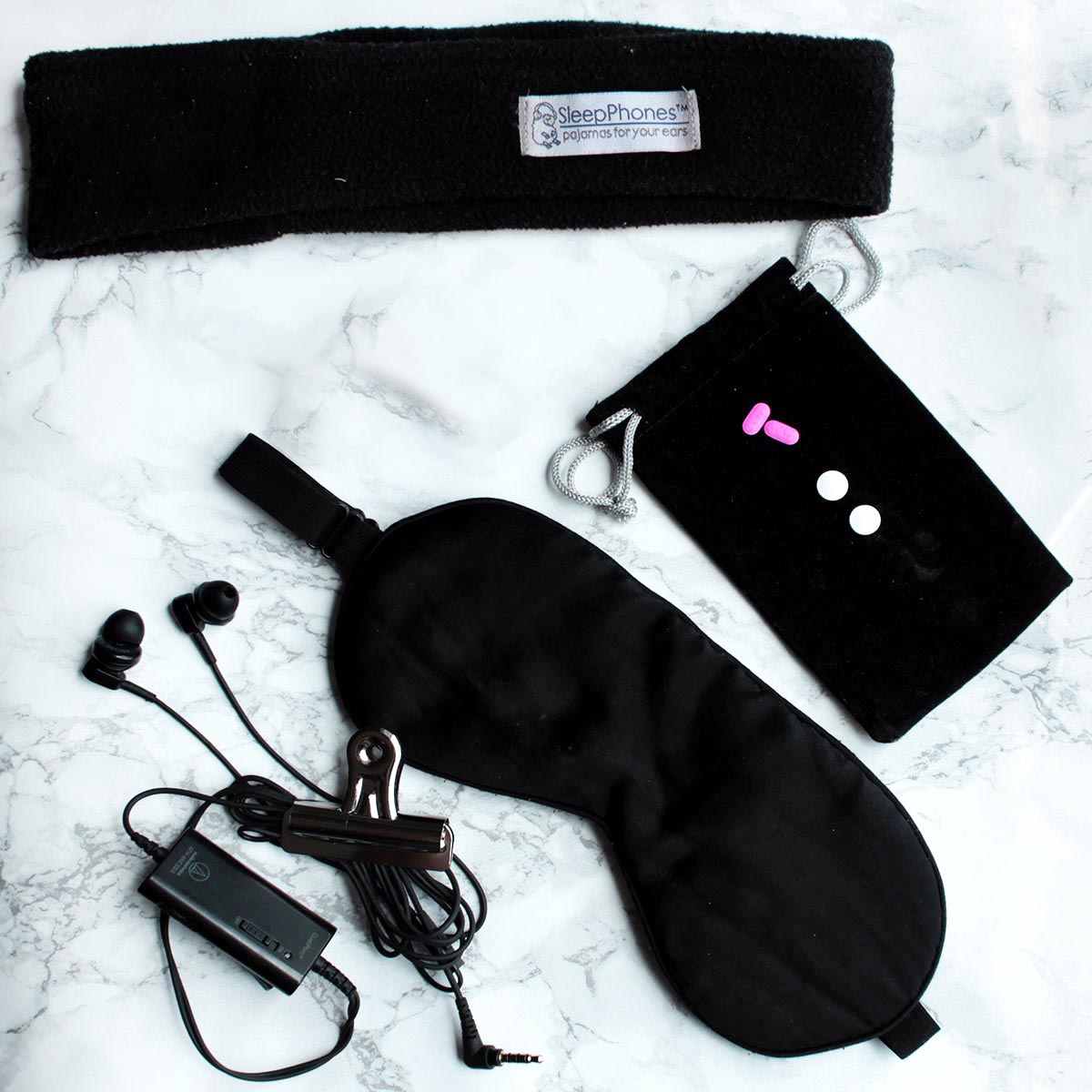 Clockwise from top, my favorite sleep aids are: 1. Sleep Headhones Phones 2. Benadryl & Melatonin 3. A (really good) Eye Mask 4. Noise-Cancelling Headphones 5. WhiteNoise App (Not Pictured).
Here's why these lifesavers made my list:
Wireless Sleep Head Phones – Slap on the back to the inventor who created a fleece headband style set of earphones with speakers that are *actually* flat. Similar products seem to be just regular earbuds inside a fleece band, but these are the real deal. These soft fleece headphones are the best way to block light ambient noise and play sleep inducing sound without disturbing your partner or roommate. The flat speaker design inside the fleece band means none of the issues of trying to sleep or fall asleep wearing headphones.
Benadryl & Melatonin – You won't create a chemical dependency in one vacation, and the health benefits of sleep far outweigh any health risks (for most people) of these over the counter medications. Be sure and pick up Benadryl (Diphenhydramine) at a wholesale club or from Amazon because corner markets and sometimes even larger chain drugstores charge up to 20X as much for Benadryl. For Melatonin, I'm partial to the Source Naturals brand, because they offer smaller doses and dissolve-under-the-tongue tablets, which act faster than my brain can reach the frustrated-and-I-can't-sleep point of trying to go to sleep in a strange bed.
Contoured Eye Mask – A good sleep mask is essential. Avoid sleep masks from big box stores and purchase a sleep mask designed by a company that makes sleeping well their business. Good materials and good design really matter on something you will wear on your face for 7-10 hours each day of your trip! Shown is my Alaska Bear Silk Sleep Mask, which I like a lot, but I prefer this contoured eye mask below because it takes the material's pressure off of my eyelids. Fair warning: I washed my contoured eye mask in a machine washer once and it began to deteriorate! Hand wash only.
🥽 My recommendation for a travel eye mask is Bucky brand eyemasks, which you can buy here at Amazon. (I use this model). They're ultra-lightweight and molded, making them perfect for travel.
Audio-Technica QuietPoint Active Noise-Cancelling Headphones – The best. Seriously. The best. I don't travel by bus, plane, or train without these headphones. They are largely responsible for most of my papers written in coffee shops and libraries during grad school. Paired with the WhiteNoise app (below) these can drown out 80% of ambient sound at any volume. I don't sleep with these unless I have to (i.e. bunking with a loud snorer) but 90% of the time these can do the job alone. If you want to find yourself in sheer ambient white noise silence- pair these with SleepPhones and silence even the loudest snorer. By allowing me to sleep, these might have saved my roommate's life in Germany once.
WhiteNoise App – Anytime I need to concentrate in a space with background noise, this is my go-to app. This app paired with QuietPoint Headphones can make you absolutely forget you in the back row of an airplane, a crowded coffee shop, or in a room with a partner not quite ready to turn off the Late Show and go to bed.
These 5 (ok, 6ish) products have saved my sleep and my sanity during many travel adventures. Getting great sleep is so important to fully enjoying your vacation and experiencing what your days hold. Now that I live in Seattle with 4:30 am summer sunrises and downtown nightlife noise lasting long past midnight, these are products I use every day and am glad to share.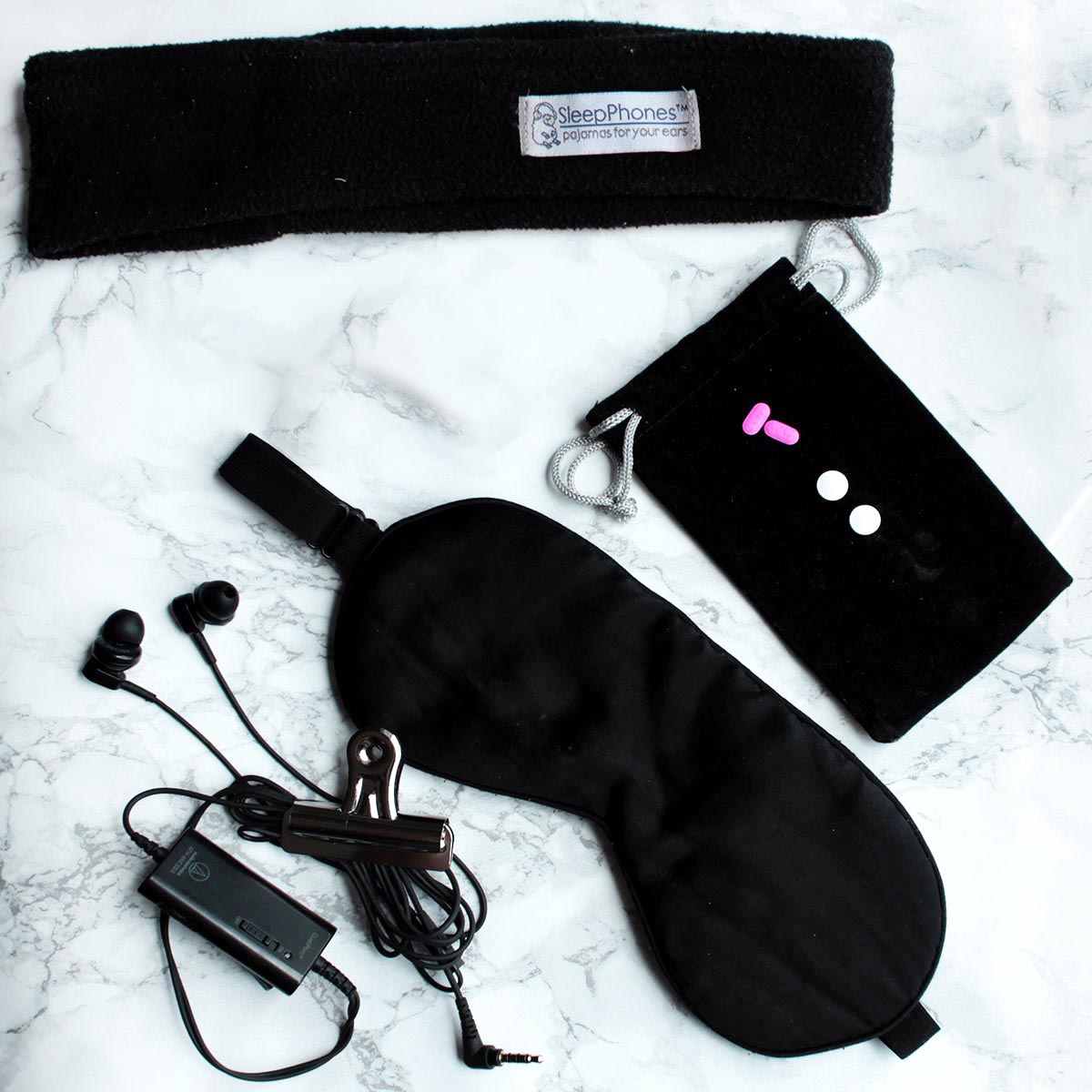 How to fall asleep in a hostel
First, make sure your luggage is locked
You won't sleep if you are worried about the security of your valuables. Lock it up, invest in renting a locker or buying a lock if you don't have one (consider good sleep your return on investment!) or stuff valuables inside your pillow, bedding, or clothing.
Take a cool shower before bedtime
Sleep researchers have found that people sleep best in a cool room. If you can't control the room temperature, lower your body temperature with a cool shower.
Lie down and Listen to a sleep story podcast
Sleep story podcasts are relaxing, meditative type stories with no drama or cliffhangers, meant to help you relax and fall asleep
If you can't sleep, make a list or take a walk
If you can't sleep, you may want to get out of bed for a bit. Go to an area where you won't bother others, and travel journal for a bit or make a list of worries to think about tomorrow.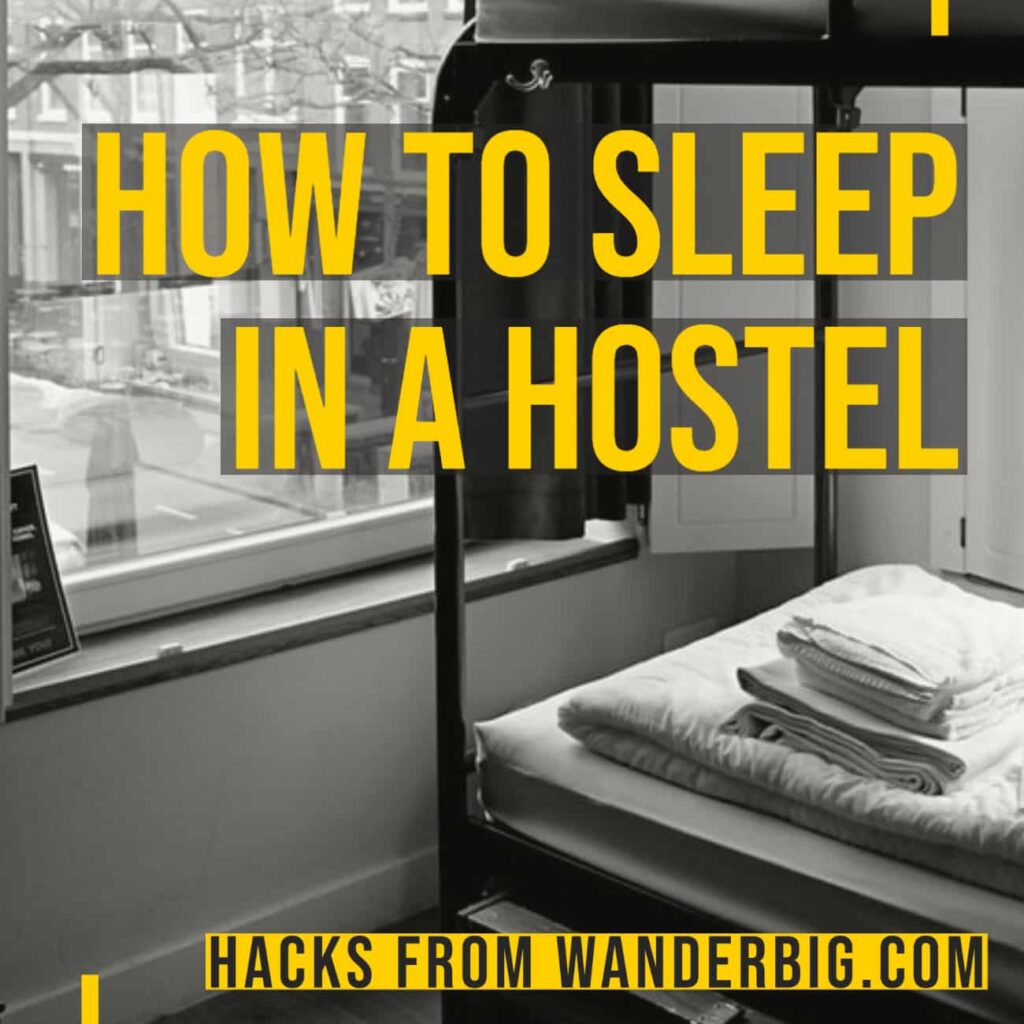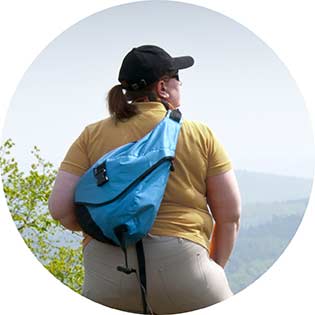 Artist, digital nomad, and highly sensitive person, Lynli started traveling full time as a digital nomad in 2018. Writer and Illustrator by day, remote-destination explorer by other-days, Lynli is passionate about pushing the boundaries of her own comfort zone, exploring the world as a plus size, one-bag traveler, and journaling it all on WanderBig.com
Sources
Perlis, M. L., Sharpe, M., Smith, M. T., Greenblatt, D., & Giles, D. (2001). Behavioral treatment of insomnia: treatment outcome and the relevance of medical and psychiatric morbidity. Journal of behavioral medicine, 24(3), 281-296. [↩]