Annually, on the third weekend in July, local Native American nations come together at the cultural center near Discovery Park in Seattle for a multi-day powwow. At this particular event, outsiders are welcome for a small entrance fee. It's an opportunity to experience the culture and history of the indigenous people that are native to the Pacific Northwest. This family-friendly event includes opportunities to experience native Pacific Northwest food, art, craft, and performance.
Itinerary Part 1- Seafair Powwow: 10am – Start your day early at the SeaFair Powwow ($7 per person and only on the third weekend in July of each year). This large event gathering many different groups at the cultural center and the surrounding area, features dancing, culturally-appropriate opportunities to join in the dancing (per the very kindly published FAQ on how to appropriately attend as a visitor), artists and craftspeople, and food. (We'll find lunch there). Tourists and visitors are welcome.
"This 32nd annual Seafair tradition hosted by United Tribes of All Indians brings together Native American tribes from all over the Pacific Northwest for three days of cooking, jewelry-making, live music, and traditional dancing."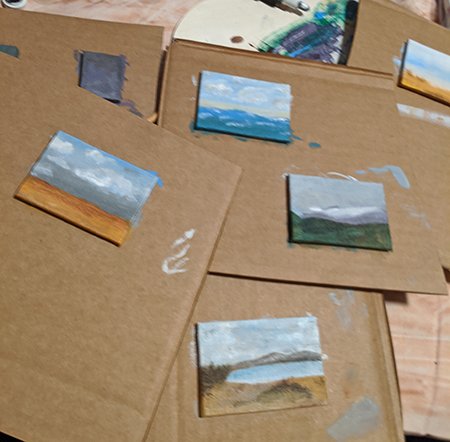 If, after the excitement and experience of the powwow, you'd like to end your day with something a little lower key and a little more private. Head straight into next-door Discovery Park. Go for a hike on the amazing system of trails in Discovery Park – leading all the way to a lighthouse on the point. Alternatively, enjoy one of my favorite, low-key, Seattle summer activities: making art in a park.
While most Seattle residents are drawn to the shores to spend the summer days floating, kayaking, swimming in the nearby lakes and the Puget Sound, I like to save at least a few afternoons every summer for what's called Plein Air painting.
What's Plein Air Painting?
It's a fancy way of saying "paint outside." Historically, professional artists and art students would move their studio to field meadow, seashore, or Mountain Vista, set up, and paint. But you don't have to be a professional artist to give this activity a world. Think of it as a paint and sip party- but outdoors in the fresh air! When I'm doing this type of painting in Seattle, I like to use tiny (and I mean tiny!) canvases. The tiny canvas makes it easy to think quickly and create an interesting painting without fussing too much about details. Plus, the low investment of time and materials cost in these tiny paintings means that it doesn't hurt too much to toss them at the end of the day if they didn't turn out quite as you expect.
For more of my favorite things to do in Seattle, follow me on Pinterest:
why tack this onto a post about visiting a Native American cultural center and powwow? For several reasons: one. Most of us, after being in very large crowds for a few hours, need a break. You may not be ready to go home and hiking the trails of discovery Park might be a little too taxing after a full morning/afternoon, but painting outdoors is a great way to rest your body, while letting your mind work with the beauty around you (both in the morning's event and in the scenes at Discovery Park).
Discovery Park has many meadows, ledges, and Puget Sound overlooks, making it an ideal spot to sit, rest, and create.
Itinerary Part 2: Tiny Paintings – Relocate to next-door Discovery Park and pick a spot (or spots) to make tiny landscape paintings! (Please don't skip because of art shame! Art is for everyone. Please joyfully make bad art in good company, or feel free to find a shady tree to sit under and paint alone, if that feels better)
Supplies for Travel Painting
Through most of my travels, I carry a limited amount of art and painting supplies – usually watercolor. I think, however it's fun to which things up from time to time and paint with acrylic paint. Painting outdoors of acrylic paint takes a few supplies, but for many people is easier than using watercolor paint. Kids especially struggle with the lack of control when using watercolor pigments, so acrylic paint can be a more family-friendly option (though it can stain), so be sure to keep any stains wet until you can get the fabric into a washing machine.
To paint with acrylic paint outdoors you need just a few things:
a cup of water with the lead (or a mason jar filled with water)
small paintbrushes
small art canvases (for a family-friendly kid activity you can also just use squares of cardboard)
acrylic paint (for painting and tiny painting outdoors, skip the tubes and take a tiny row of snap top paint pots prefilled with acrylic paint)
This combination of activities sure to form the backbone of a memorable day exploring some very unique Seattle summer activities.
This article was handwritten by me, a real human creative! Keep me creating sustainably by exploring the link below: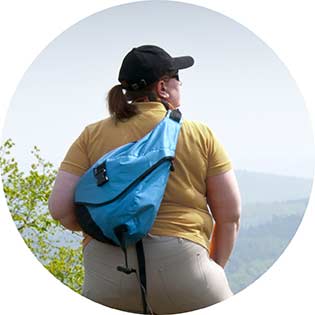 Artist, digital nomad, and highly sensitive person, Lynli started traveling full time as a digital nomad in 2018. Writer and Illustrator by day, remote-destination explorer by other-days, Lynli is passionate about pushing the boundaries of her own comfort zone, exploring the world as a plus size, one-bag traveler, and journaling it all on WanderBig.com