If you enjoy uncovering hidden gems when traveling, have I got a list for you! While essentially every traveler sees the "Rome greatest hits" I write about in my post on spending 7 days in Rome , many travelers find that the most memorable travel experiences come through exploring off the beaten path.
Often, the "best" things to see in any destination are the things that got great PR when the local travel industry was developing, not necessarily the actual coolest things to do and see. Rome is no exception. While the Vatican, Piazza Navon, and Trevi Fountain will forever stay on my mind, they rival these sights I saw when I explored beyond a standard Rome tourist itinerary.
In this post, I share 5 choices for your next trip to Rome that will pique your interest and invite you to broader travel. The capital of Italy conceals so many hidden gems that can turn your vacation into a thrilling adventure that's different from what everyone else posts about on social media after their trip to Rome.
To really experience the city, I recommend looking at this, "the eternal city" from a different perspective- especially if you have already visited Rome once before. Here's my list: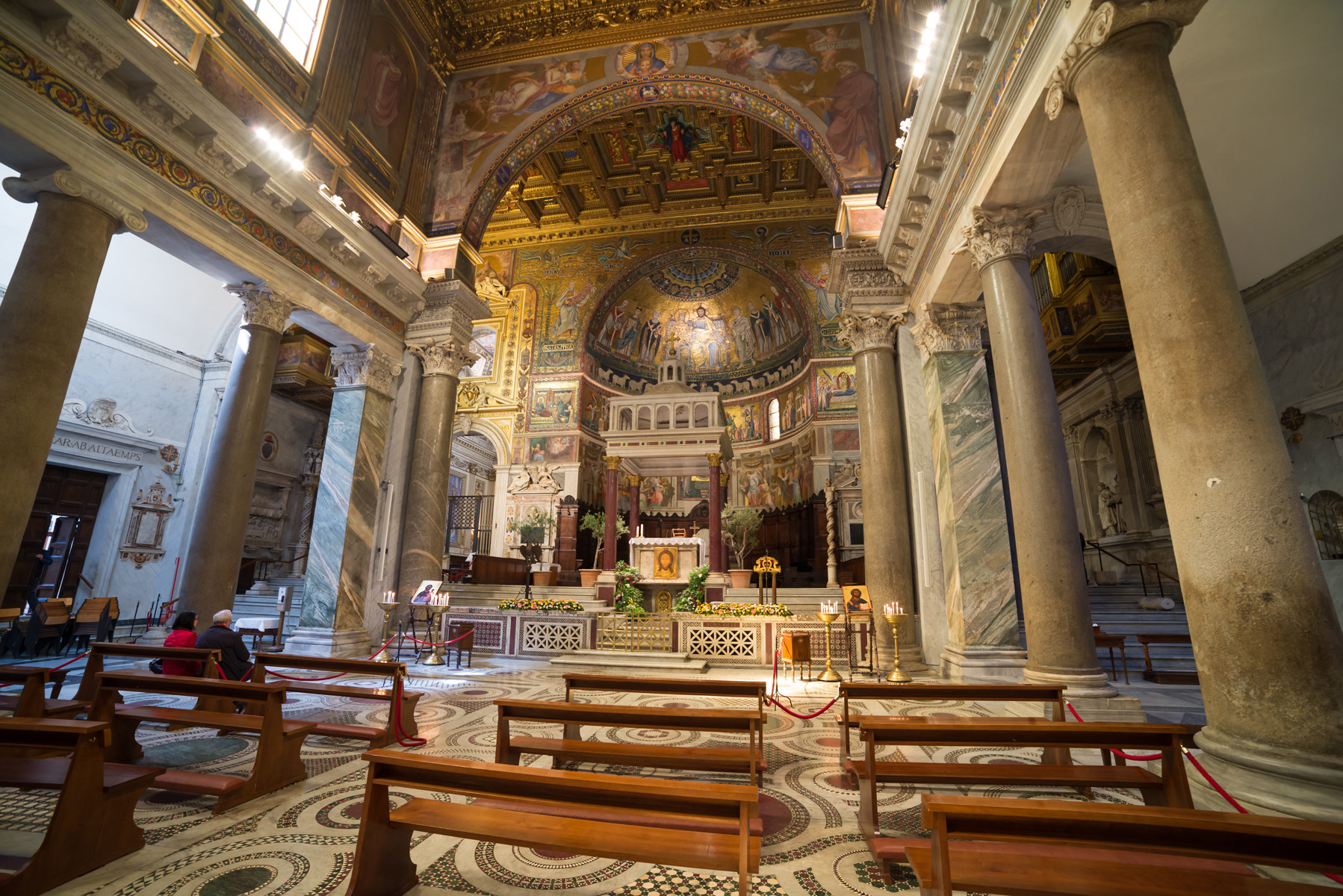 Experience the Awe of Basilica di Santa Maria in Trastevere:
This stunning Basilica was one of the city's first churches, and the first to be dedicated to Mary. The construction of this iconic landmark began in 221! Where else but Rome are monuments this old so accessible?
Church services are still held in this church and I highly recommend sitting in for part of a service even if you aren't a person of faith. Why? Two reasons: 1. admission is free for churchgoers, even if they leave early, and 2. cathedrals like this are living buildings. They aren't just structures that can be appreciated empty, but instruments designed to play with light and sound. The first time I heard a choir at St Patrick's Cathedral in Dublin I got it. I suddenly understood why cathedrals were such a big part of centuries of Christian worship.
Choosing morning or afternoon to visit Basilica di Santa Maria:
Basilica di Santa Maria in Trastevere is a beautiful church no matter what time of day it is. However, I think it is most lovely in the morning. The sun shines through the stained glass windows and casts a colorful glow on the interior of the church. The morning light makes the church seem otherworldly. If you can, check out this church first thing in the morning, just after it opens to visitors- or perhaps catch an early service.
Auditorium Parco della Musica:
Built by the renowned architect Renzo Piano, this stunning structure is located in the location where the 1960 Summer Olympic Games were held. This cathedral of music is made up of four performance halls, including an outdoor theater that was designed to be a modern reimagining of ancient Greek and Roman theatre.
If you're able, try and catch a concert in this venue during your stay in Rome. travel can be an opportunity to experiment with music styles- so try not to worry if the music style is your thing. Personally, I'd NEVER go to an opera back at home in the US, but when I landed in Timosoara, Romania during the Romanian national opera festival- I went every day and had a blast!
Photography is allowed at Auditorium Parco della Musica: There are no specific restrictions in place, so feel free to take photos as you enjoy the concert or event. Keep in mind that flash photography may be disruptive to other concert-goers, so use your best judgment.
Cinecittà:
Mussolini and Luigi Freddy constructed this movie city for advertising purposes. "Il cinema è l'arma più forte" (Cinema is the most powerful weapon), was the studios' motto before it was destroyed during WWII. Several notable projects, including the 1991 rendition of the famed Eurovision song contest, were shot in this unique location. Think of it like a Roman equivalent of a vintage Hollywood soundstage.
Getting a great Instagram shot at Cinecittà:
Many tourists visit Cinecittà to take pictures of the movie sets and studios. You can also just observe the filmmakers actively making TV, movies, and commercials, if you visit on a day that they're filming.
Museo di Arte Contemporanea di Roma (MACRO)
Located on Via Reggio Emilia, this art museum was established in the former buildings of a local brewery called Peroni. MACRO is now an active center where national and international cultural events are displayed, as well as experimental exhibitions.
Photography tip for MACRO:
Get there early. MACRO opens at 10am, but if you want to avoid the crowds, aim to arrive closer to opening time. This will also give you the opportunity to take some photos without people in them.
Take advantage of the natural light. The museum's skylights provide some great natural light. DON'T use a flash. This is an easy way to get kicked out of an art museum.
Get in the shot. Photos from art museums tend to be bad photos of something you could easily find online. What makes your photos unique is you– so don't be afraid to take over-the-shoulder selfies at MACRO- just be aware of your surroundings and considerate of others.
Palazzo Altemps
Palazzo Altemps: Part of the National Roman Museum, this representative medieval building houses the Boncompagni Ludovisi, Mattei, Drago, and Egyptian collections, which include Roman and Greek sculptures from the sixteenth and seventeenth centuries. Once the property of the local nobility, for appreciation only by the top tier of society, the Palazzo Altemps makes this art available to everyone. The marble sculpture collection that originally decorated the villa of Ludovisi that belonged to Cardinal Ludovico Ludovisi, as well as the Gods Isis and Serapis temple located on Campus Martius, are some of the palace's features.
I like this destination because it's not one of the top destinations in Rome- only because it's in Rome! In any other city, the quality of art in this museum would place it #1 on a list of things to do, but with so much competition in Rome, it falls down the list of priorities for travelers. Which is fine with me- since it means smaller crowds and more space to enjoy!
The Palazzo Altemps is one of the most beautiful and historic buildings in Rome. It was built in the 15th century and has been home to some of the most influential families in Italian history. The palazzo is located in the heart of Rome, near the Vatican and the Pantheon. It is a beautiful example of Renaissance architecture and has been well preserved over the centuries.
MAXXI
MAXXI – National Museum of Modern and Contemporary Art is a museum of art contained within a work of art! This highly acclaimed modernist structure is committed to architectural and artistic innovation and experimentation. MAXXI, located in the Flaminio area, is divided into two sections: MAXXI arts and MAXXI architecture, where prominent works by artists such as Gerhard Richter, Gino De Dominicis, Michael Raedecker, and Anish Kapoor, among many others, are displayed.
best time to go: Some people believe that the best time to visit MAXXI is during the week, when it is less crowded and more relaxed. Others prefer to visit on weekends, when the museum is open later and there is more of a festive atmosphere.
The museum's architecture is as unique as its collection. The building is composed of two rectangular volumes that are intersected by a series of diagonal lines. The resulting space is both open and closed, public and private, traditional and modern. I really like this museum because of its unique offerings. It's rare that an art museum highlights architecture as a form of art. The National Museum of XXI Century Arts is a must-see for any art lover visiting Rome. The museum's combination of contemporary art and cutting-edge architecture is truly unique.
Final thoughts
Rome is a city with a rich history that extends far beyond the most popular tourist attractions. By exploring Rome beyond these attractions and exploring some hidden gems off the beaten path , you can get a deeper understanding of the city.
From the Colosseum to the Pantheon, there are countless historical landmarks to explore. But by venturing beyond the most popular tourist spots, you can get a better appreciation for the city's rich history and culture.
Now that you're aware of some of the numerous hidden gems that are off the beaten path in Rome, consider adding these attractions to your vacation to Rome.