Killarney is my favorite place in the United Kingdom. Sometimes overbilled as a tourist "trap," for me, Killarney is a breath of fresh air compared to the large, globalized cities of Ireland and Great Britain. After too much time spent in fast-paced city travel in Dublin, my Ireland trip included a change of pace in the form of renting a car to drive the southern coast of Ireland.
There were so many fun things to do in Killarney compared to manycities of the same size. Although there are cetainly drawbacks to over-tourism, once-in-awhile a location becomes popular just because there are SO MANY amazing things to do nearby- and in my opinon- that's Killarney!
Blending many of the attractions of a larger city with a still somewhat village-esque feel, Killarney had much to offer. In this blog post, I've reviewed my notes in my travel journal on the amazing things we did in Killarney that made it so memorable. Stay tuned for part two, where I outline some of the tips and secrets we learned along the way for getting the best travel deals in Killarney.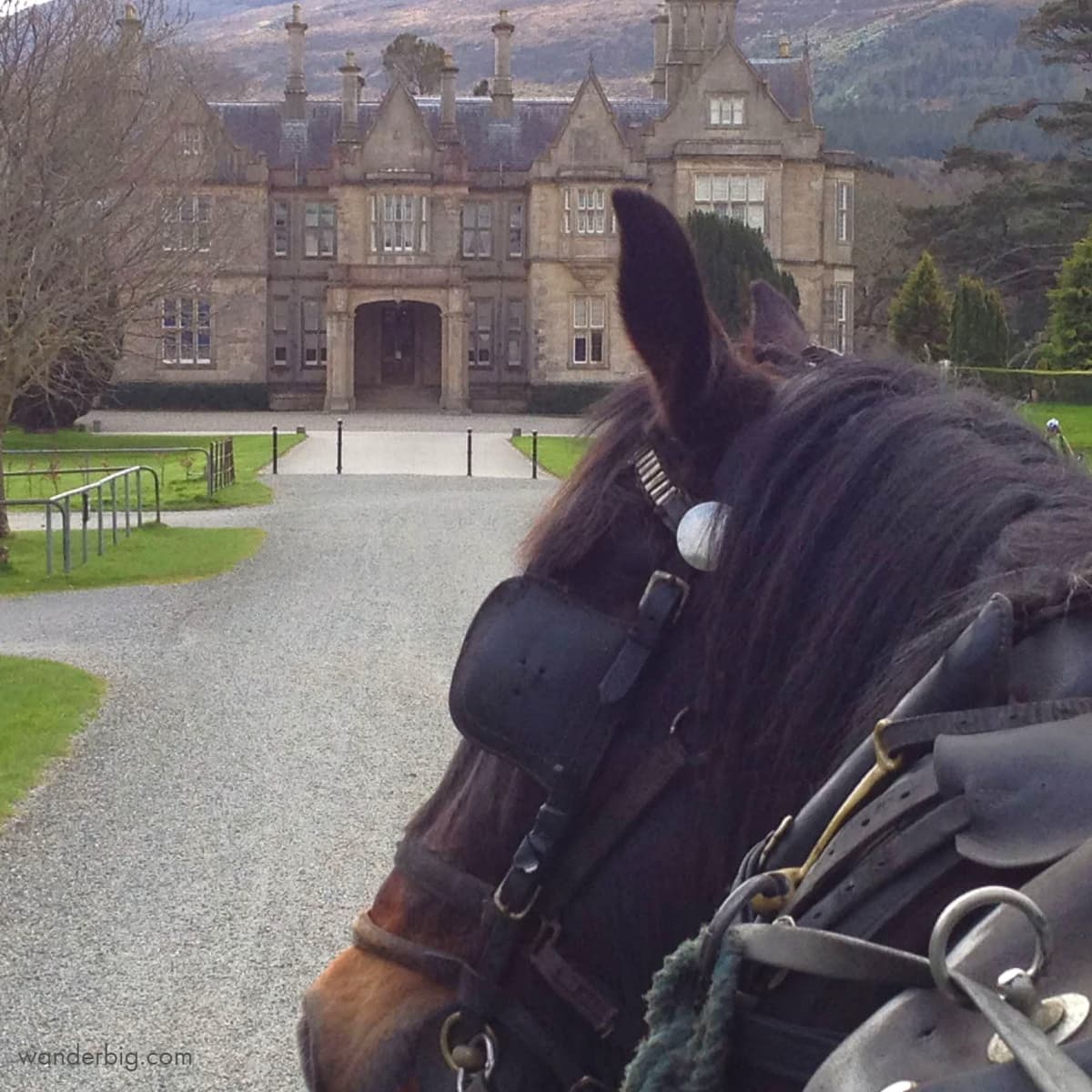 My Favorite Things to do in Killarney, Ireland:
before I jump into a detailed itinerary and tips for navigating Killarney, here are the highlights, with ratings. A star added means it's one of my absolutely-can't-miss recommendations.
Breakfast at The Lakehouse
McCarthy Mor Castle Ruins on Lakehouse's grounds
Killarney National Park
★ Ride in Jaunting Cars on Muckross Grounds & to Torc Waterfall
Muckross House & Grounds
★ Torc Waterfall
★ Muckross Abby Ruins
Picnic
Ross Castle
★ Boat ride across Lough Leane.
Return to village for dinner
COST: This was actually one of our cheaper days in Ireland. Visiting the grounds, gardens, and exterior of Muckross House & Ross Castle is free. If you are looking for more to do in the area, neardy Muckross Abby & Innisfallen ruins are free to explore, as is Torc Waterfall- leaving the only expenses of the day: transportation and food.
One Day Itinerary for Exploring Killarney Ireland
9:00 am. Breakfast & Ruins at "The Lakehouse" Hotel
We skipped the breakfast at our hotel to have brunch at The Lakehouse, which is located between the village proper and Muckross Castle. While the dining room at The Lakehouse features high-end dining in the evenings, brunch was a great choice for traveling on a budget. Breakfast was well prepared, reasonably priced, and offered amazing views from the dining room of the lower lake and the mountains beyond.
HINT: If you're traveling as a remote worker, digital nomad, or slow travel traveler, take a pause and enjoy your time in the dining room at The Lakehouse. Patrons here often linger for tea, conversation, and the view.
The Lakehouse's property includes a walking trail and their privately owned castle ruins, both of which are accessible only to customers. Luckily, patrons of the restaurant count and after breakfast, you can explore these ruins at will. The walking path leads out to a ruin perched on the edge of the lake in front of the hotel, and offers the opportunity to explore the ruins of a 12th century McCarthy Mor castle.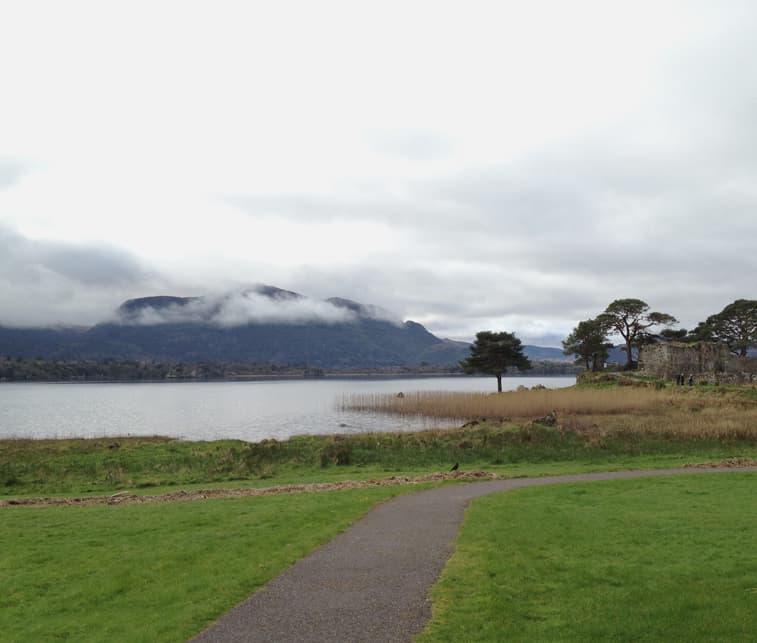 10:30 am My FAVORITE thing to do in Killarney: Jaunting Carts!
After breakfast and exploring the grounds of The Lakehouse we headed towards Killarney National Park where we knew jaunting cars ("ponies and traps" they call them, even though the ponies are Irish Draft Horses) would be waiting.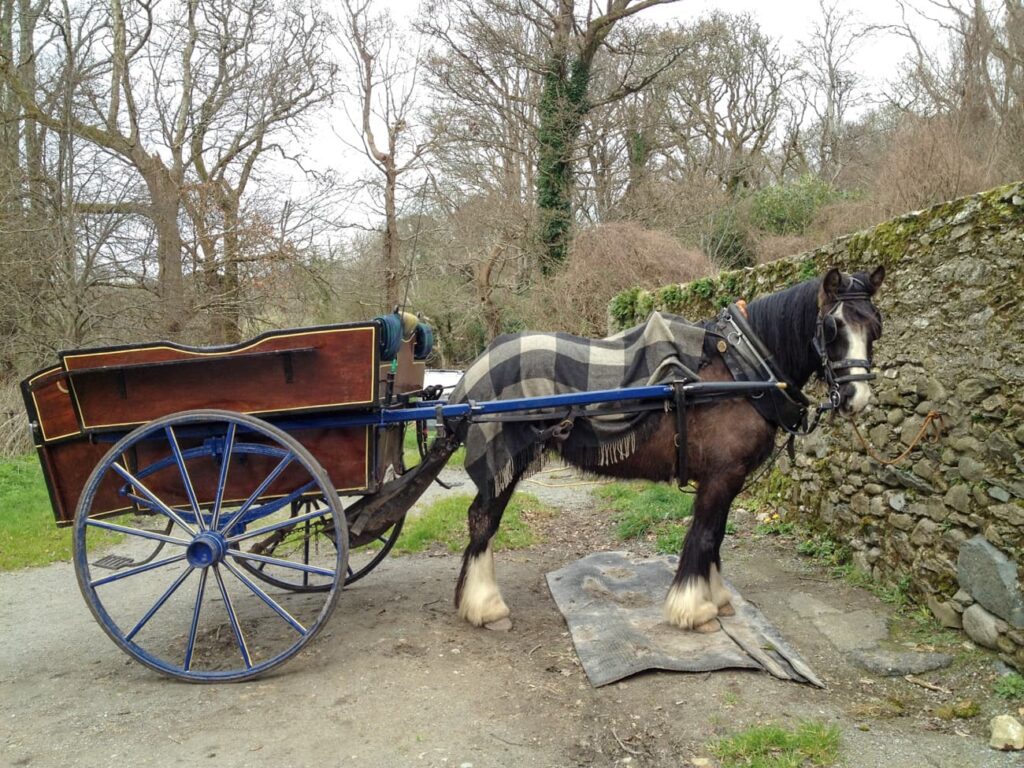 (TIP: Jaunting cars wait in the village to carry you all the way to Muckross House, but the road between is not ideal for horse and carriage. If you have a rented car, drive to the parking lot outside the Muckross gatehouse and hire one of the jaunting cars there)
When you hire your jaunting car, know that the price is flexible and up for negotiation. (TIP: even if you don't consider yourself a good haggler, give it a try! Asking "If we pay the price you are asking, will you include a ride up to Torc Waterfall?" is a reasonable request with a yes/no answer)
Here is a video of our arrival. Pulling up in a carriage was the really most fantastic possible way to arrive at a manor house!
You can take the jaunting car up the long path to the house, and then down to the waterfall. Our driver let us get out to make the short hike to the waterfall while he waited on us, and then carried us back to the house where he again waiting for us while we explored the gardens, and then carried us back to the parking lot (The complete trip was arranged before we left at a price of 20€ per person)
Killarney's Torc Waterfall
Torc Waterfall almost got cut from our itinerary because of the hike and additional expense of travel (although it is a free attraction), but we were very glad we made the short hike up to the falls- it is a distinctive waterfall that was vibrantly surrounded by more shades of green than I could have dreamed.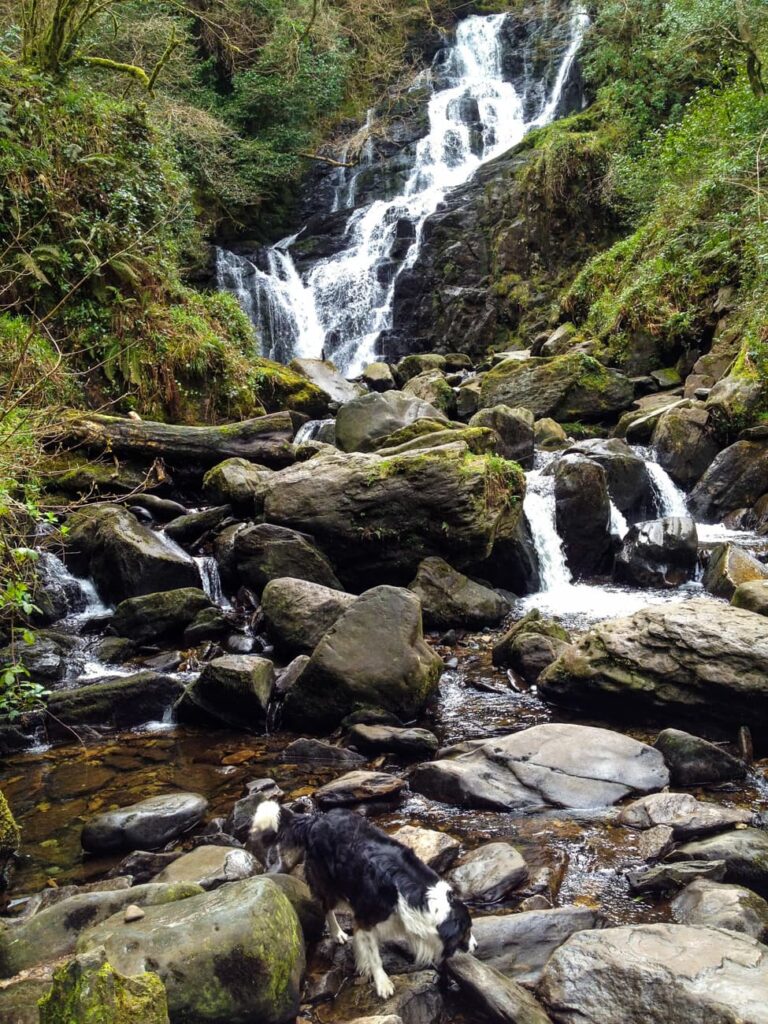 1:00 pm Exploring the ruins of Muckross Abby
On a tip from our carriage driver when he dropped us off at our car, we drove up the road only a few hundred yards from the Muckross House gatehouse to park in a small parking lot nearly adjacent to the ruins of the Muckross Abby. We ventured into the park on foot and were really delighted with the ruins.
There, mid-day at the beginning of tourist season, there was no one else around and we enjoyed the experience of exploring ruins that had stood for nearly a thousand years. It was beautiful, free, and still in good condition for a ruin. Other ruins we visited had modern handrails or ledge railing installed that detracted from the authenticity- the less "managed" appearance of Muckross Abby combined with the sparse crowd on the grounds that day made it feel as though we were really exploring something off the typical tourist track.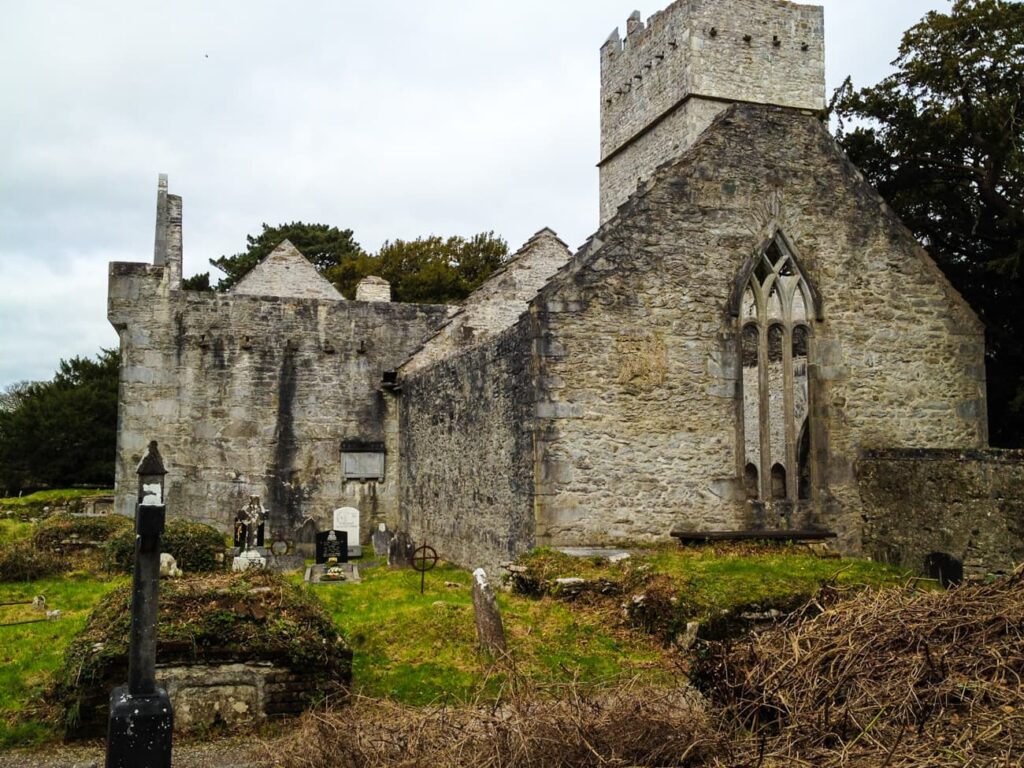 2:30 PM Essential Stop on My List of things to do in Killarney: Ross Castle
Next on my list of things to do in Killarney, we visited Ross Castle, which was just a mile or so from Muckross house. During the summer months, you can even hire a boat to carry you across the lake between Muckross House and Ross Castle. Ross castle was a tower-style castle that was fascinating- it's totally restored on the interior (though sparsely decorated according to practicality and the original fashion of the day).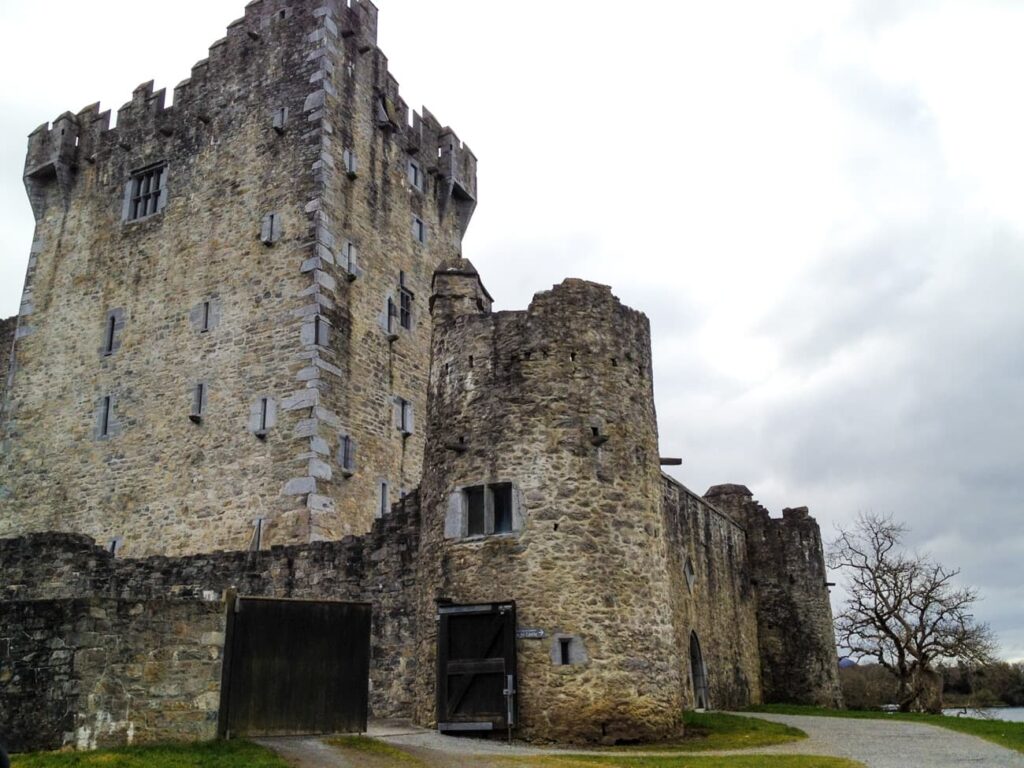 PICNIC – If you plan to follow this itinerary by starting the day with a large breakfast or brunch, plan a picnic! All of these afternoon spots are ideal locations for picnics, and it can help save a bit of money towards other exciting things to do during your Ireland trip. Thankfully, I always travel with snacks, so we were able to avoid the expensive on-location lunch spots and save money to splurge on dinner.
3:15 PM Rowing out to Innisfallen Island
Behind Ross Castle was the largest of the Killarney lakes, Lough Leane, and boat operators with large wooden boats waiting to take passengers to see the ruins on Innisfallen Island in the lake.
Again, visiting on the edge of tourist season and late in the day served us well in regards to having privacy on the island. The island was mostly deserted by other tourists during our visit- leaving us to explore solo and the island's wildlife- a herd of deer- grazing near the ruins.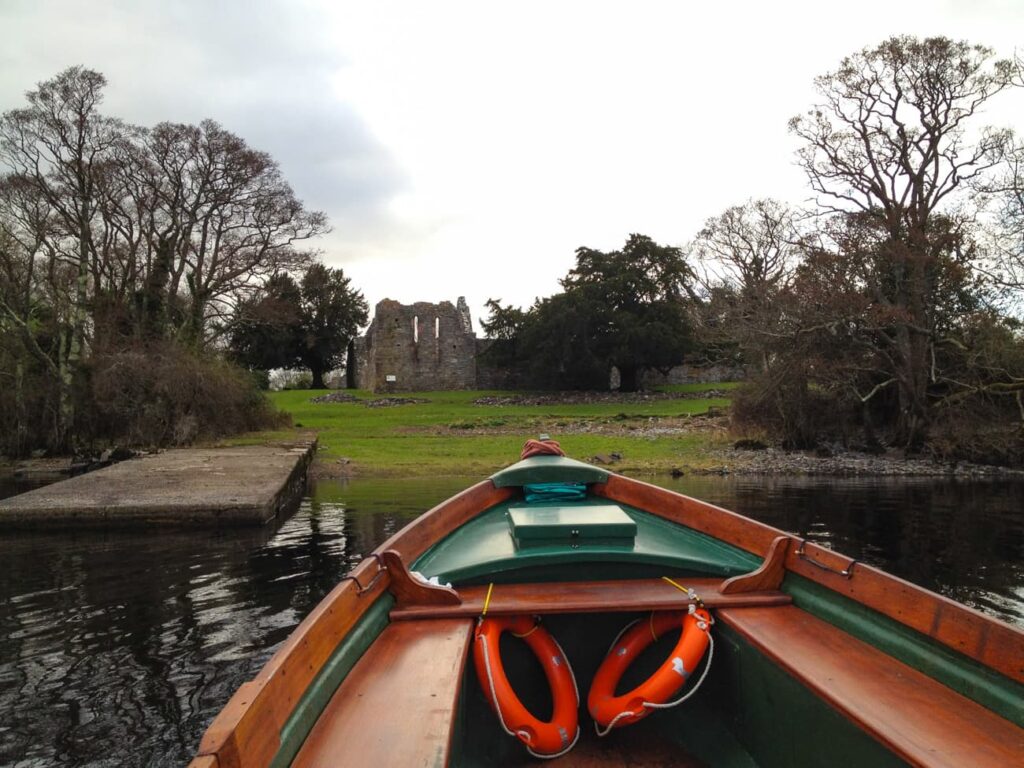 By the time our boat deposited us back at Ross Castle we were ready to rest before dinner. After a short rest, we splurged on fine dining at a high-end restaurant in Killarney, to mark the end of a great day of things to do in Killarney.
This article was handwritten by me, a real human creative! Keep me creating sustainably by exploring the link below: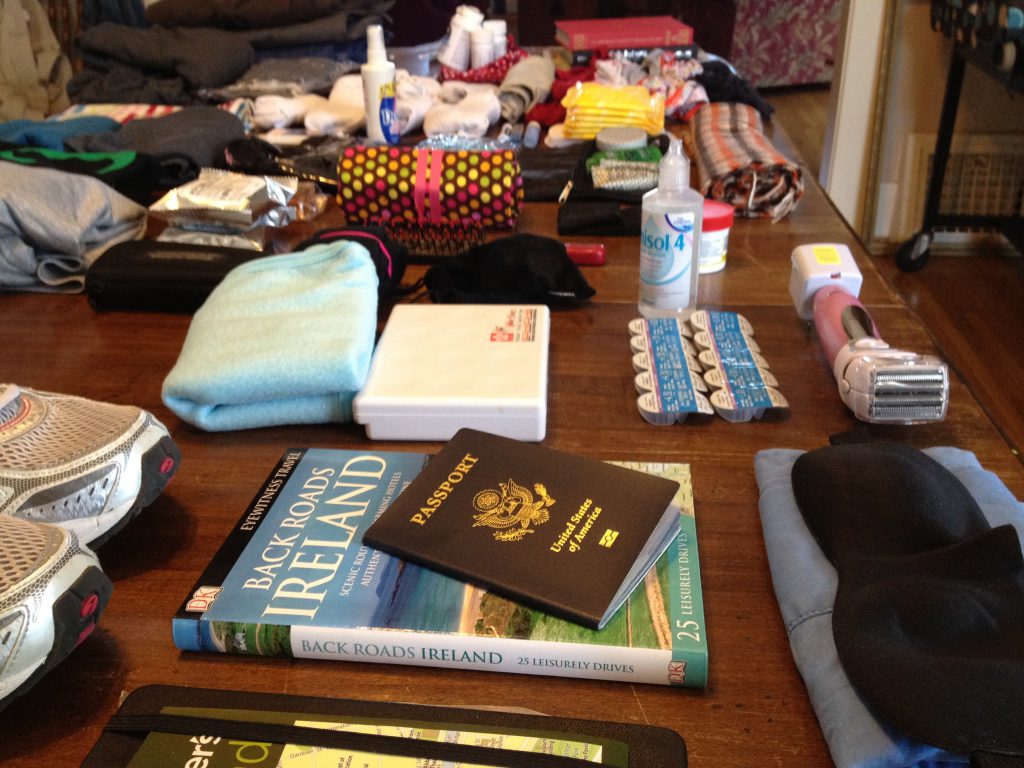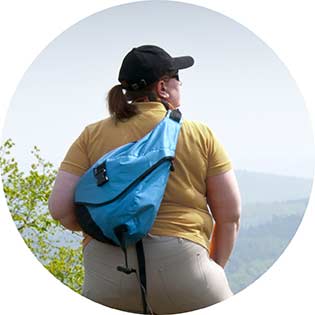 Artist, digital nomad, and highly sensitive person, Lynli started traveling full time as a digital nomad in 2018. Writer and Illustrator by day, remote-destination explorer by other-days, Lynli is passionate about pushing the boundaries of her own comfort zone, exploring the world as a plus size, one-bag traveler, and journaling it all on WanderBig.com