Saving up for an epic vacation isn't an easy task, but that doesn't make it impossible. In this article, you'll learn some of the best ways to find the money to fund the vacation of your dreams!
Planning an amazing vacation is a thrill of its own. You daydream about the places you'll see, the photos you'll take, and the new experiences you'll remember forever. You do the research, follow the hashtags, jot down a bucket list, and maybe even make a Pinterest board. But here's the part of that vacation that doesn't make it to social media: saving up money for the trip.
Saving a bit of money each money is an essential- but less talked about- part of travel for most of us. It can be really difficult to save money for a big trip- especially with inflation, energy costs, and other financial stressors. Despite these, there are a few simple ways to make your savings between trips more effective.
Here are four reliable ways that travelers save up for a splurge-worthy vacation:
Create a travel budget and stick to it.
Knowing the budget for your next big trip can help you create a savings strategy. If your 10-day trip to Maui will cost $6,000, and you have 18 months to save for it, it's easy to calculate just how much you'll need to save from each paycheck to be able to finance your trip with cash.
18 months to save = 39 paychecks
$6000 trip cost / 39 paychecks =
$153.85 of each paycheck will need to be saved.
Creating a budget for your trip is a great way to learn what you can realistically afford and set expectations that match.
It's never a fun vacation when your expectation of 5-star luxury is met with hostel-accommodation reality- but if you expect a hostel experience from the very beginning of the planning period, you'll be prepared to enjoy the vacation you can swing. Once you know where your money will be spent during your trip, you can make adjustments to ensure that you are spending and saving in a way that aligns with your travel goals.
Automate your savings.
One of the best ways to save money for travel is to have it automatically deposited into a savings account. By using the travel budgeting method described above, you'll know exactly how much of each paycheck needs to be designated for a vacation fund.
If your bank offers savings "buckets," I highly recommend using this feature to set money aside for your next trip. If your bank doesn't offer this service, consider opening a free online savings account. Once established, you can create a transfer that automatically transfers money into your travel fund after payday. Personally, for this traveler, a separate bank account (with a separate bank!) works better to help me save. Out of sight, out of mind is a good policy when saving for a far-off trip.
With auto transfers, you don't have to think about it or make a conscious effort to save. The money will just be there when you're ready to begin booking your trip!
Live below your means.
If you want to take a big trip or even quit your job to spend time traveling, you need to be mindful of your spending. Some travelers even downsize or get extremely thrifting in order to save the bulk of their income for an upcoming season of travel.
If you need to save for a trip that's not-so-far in the future, adjust your living style as you can. Make sure you are only spending on things that you really need and that you can afford, consider housesitting or becoming an Airbnb or furnished finder host for extra income. When you live well below your means, you will have more money available to save and able to afford travel sooner.
Invest in yourself.
Here's the thing. When we're desperate to travel, saving money for a big trip can seem like the Most Important Thing™. It's critical to keep perspective, however.
Essential self-care like safe shelter (yes, sometimes kicking out the creepy boundary-crossing roommate is the expensive but appropriate decision), medical and dental care- and even mental health care if we need it- are essentials.
When you invest in yourself and spend the funds you need to care well for yourself; you are more likely to make better financial decisions, which can lead to more money in your travel savings account.
First, Define What "Epic" Means to You
The first thing you need to do — before you even choose a destination — is to define your expectations for an "epic" vacation.
Do you want to travel to somewhere far away? Or would you prefer to stay somewhere closer but go all-out on hotel amenities? Will you travel solo, in a small group, or with a friend? Will you have a detailed travel plan, or will you keep things loose and unscheduled?
Your answers to all of these questions will help you define what "epic" really means to you (and your traveling companions).
If you're not sure about some of your answers, don't worry. Accept that as a sign to stay flexible. Keep doing research and learning about options to help refine your expectations. That way, the vacation you're working and saving up for is exactly the one that will be worth the months of saving up!
Set a Reasonable Budget
Before you start saving for travel, you'll need to have a travel savings goal in mind. This budget should include absolutely everything you need for your trip, plus a bit of extra cash in case of an unexpected expense on the road.
In addition to the cost of transportation and accommodation, here are some important expenses to include in your budget and savings goal:
🍜🍺 Food and drink (including meals you'll eat at restaurants; don't forget to research the local tipping culture before you set the food budget!)
🚍🚖 Local transportation after you've arrived (like a rental car or subway/bus pass)
👙👒 Clothes and/or accessories that you'll buy for the trip
💅🏽🧴 Special cosmetics (like sunscreen) that you'll buy for the trip
🧳🎒 Travel equipment (like a backpack or new suitcase) that you'll need for the trip
If you're traveling internationally, here are some additional expenses that I've learned to include in my travel savings:
📘 Passport, visa, and other bureaucracy fees
💸 Commission and/or other fees for exchanging currency
🖼️ Souvenirs for friends, family, and your bare walls or travel magnet collection back home. (Read by ideas for the best souvenirs from any destination)
💳 Fees for using out-of-network ATMs and/or fees for foreign transactions on your credit card
🩺 Medical expenses for a travel medicine appointment before you leave, if necessary.
🛍️ Everything that you want to buy duty-free on your way back home (This one especially difficult, because that money has to make it all the way through the trip!)
Of course, this list is not exhaustive, but it's a good place to start. You should think about every aspect of the trip and plan for any possible expenses. There's no shame in increasing your budget/savings goal as you go along. After all, it's always safer to overestimate how much you'll need so that you won't wind up in the perfect destination with empty pockets!
Plan Around the Big Expenses
The easiest and most effective way to save up for a vacation is to make the vacation cost less overall. Pretty straightforward, right? Cheaper trips are easier to budget and save up for.
The biggest expenses for any trip are usually the transportation to and from the destination (like flight tickets, train tickets, or gas expenses) and the accommodation (like your hotel or airbnb rental). So, the best way to cut down on the overall cost of your vacation is to find deals on these essentials.
Budgeting less for transportation and accommodation doesn't mean that you have to sacrifice comfort or style. Instead, be prepared to be flexible with the dates that you're traveling. Instead of going on vacation during the summer or the winter holidays, opt for a low-season vacation when flights, trains, and hotels offer much better rates. Read more tips for taking luxury vacations on a budget.
Be Flexible with Your Destination
Instead of choosing a destination and then calculating the cost of traveling there, flip the formula. Start by choosing a general "type" of destination, like "tropical beach" or "European capital." Then, explore several options that fit that description. Even destinations known for being expensive have budget-friendly options (see: Budget-Friendly European Destinations)
Use Google Flight's "Explore" feature and "calendar view" features on airfare and hotel comparison websites to find the best fares. Investing a little bit of time and effort during this research phase of planning can save you hundreds of dollars on your vacation.
Chances are, you'll be able to find some significantly cheaper options that aren't the most heavily advertised, but they are just as attractive, relaxing, and exciting. This will help you save a lot on the airfare and accommodation, plus it will give you the chance to create a more personalized travel experience off the beaten path. Budget choices I've made, like taking a ferry across the Adriatic Sea instead of flying, and traveling by train in Romania have been the backdrop for some of my most vibrant travel memories.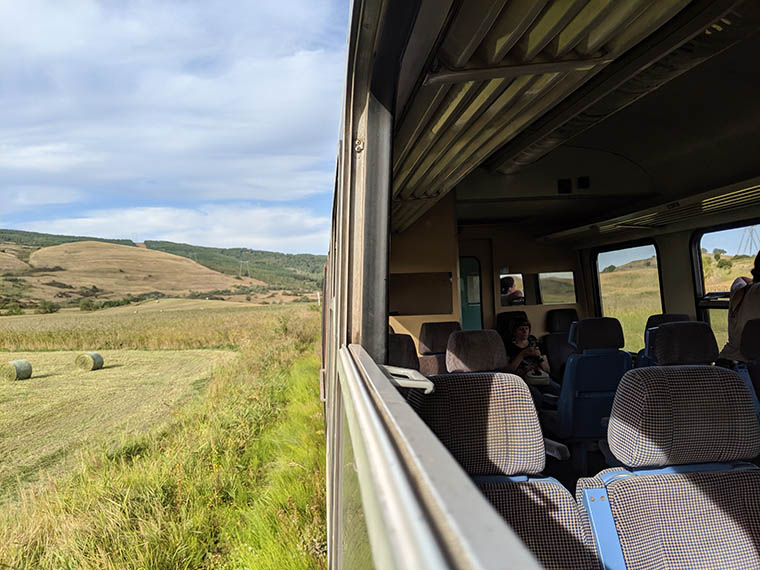 Open a Specific Savings Account
Don't expect your normal checking or savings account to do all of the heavy lifting for your goal. Instead, open a specific account that is dedicated to saving up for your dream vacation.
This way, you'll be able to easily and accurately track your progress. Plus, automatic monthly or bimonthly transfers help you save money more easily.
Plus, having a separate account designated for travel makes it more difficult to use your vacation money for something else (because that temptation is real!)
Stay Motivated!
Setting up a savings plan is the easiest part of the process. Actually sticking to the plan and saving consistently for travel is the hard part. That's why it's important to stay motivated and remember the amazing trip that you're saving up for!
Add little reminders of your goal – that epic vacation – in your daily life. For example, you can change your phone's lock screen photo to a shot of your destination. Or, you can keep your vacation clothes in the front of your closet so that you see them every morning.
Accountability from friends, family, and travel companions is another effective way to stay motivated. Have a friend check in on you and your savings progress once a month at a specific time. This one weekly question can help you stay on track in the long term!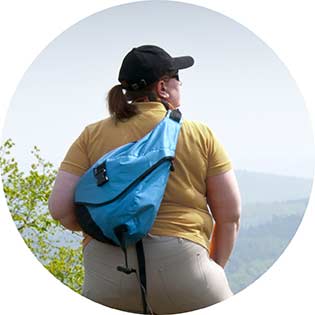 Artist, digital nomad, and highly sensitive person, Lynli started traveling full time as a digital nomad in 2018. Writer and Illustrator by day, remote-destination explorer by other-days, Lynli is passionate about pushing the boundaries of her own comfort zone, exploring the world as a plus size, one-bag traveler, and journaling it all on WanderBig.com