One less often discussed downside of travel, particularly long-term travel and digital nomading, is just how easy it is to fall into a pattern of eating and dining out that isn't actually kind to our bodies.
Even for those of us who eat according to intuitive eating, rather than cycling through diets that don't work, travel presents a challenge. As sleep schedules are disrupted, time zone changes leave the body sluggish, and access to kitchens may be limited or nonexistent, it's easy to begin eating in a way that doesn't match our personal goals.
Three of the best ways to eat healthy while traveling include visiting grocery stores in every destination, cooking your own meals when possible, and snacking often enough to avoid energy crashes. In this article, I'm explaining these tips and more for eating healthy while traveling, whether you're on the road as a solo traveler, backpacker, business traveler, or family traveler.
1. Visit the Grocery store at every destination
After you check into your hotel, hostel, or Airbnb, locate the nearest grocery store or market and pay them a visit. A small bag of fruits and vegetables kept in your hotel room or toted along to your next destination can help make sure that at least some of your snacks and meals are heathy foods.
The fruits and vegetables you have access to purchase may vary by destination. When visiting Seattle, for example, you can buy great food while hitting the major tourist site of Pike Place Market – grab Washington apples, Rainier cherries, or native blackberries from Pike Place and keep them in your hotel room to eat through your trip. On the other hand, when visiting Eastern Europe or the Middle East, things like dates, dried apricots, and figs might be more accessible.
Just like dining in restaurants, grocery shopping and healthy snacking can be a part of fully experiencing a culture and its cuisine.
Apples: The Travel Superfruit
I have yet to visit a destination that doesn't have at least one variety of apples in their grocery stores. Apples, with their hard-to-crush texture and sturdy peel are perfect for carrying in a backpack- and for picky eaters, they are one trustworthy fresh food that will taste basically the same no matter where in the world you enjoy them.
In fact, research published in 2015 showed that kids who ate apples were more likely to have a healthier diet overall. While correlation isn't causation, it may indicate that apples help us make better food choices throughout a day- and even if that evidence is weak, it's more than enough reason to pack a delicious fruit in my backpack!
2. Cook Your Own Food when Possible
Virtually no one dines out in restaurants for every single meal at home, but many of us do during travel.
This practice can be expensive and can make it really difficult to maintain the healthy eating goals that we've defined for ourselves. Instead of going out for every single meal when we travel (something that is especially tempting when an exchange rate is favorable) consider my guides to easy meals to make in an Airbnb, a 7-day vacation rental meal plan, and, for even simpler travel food options, meal ideas for hotel rooms without a kitchen.
HINT: cooking a meal to share can be one the best ways to make friends in a hostel
Cook & Eat like a Local for an Authentic Expereince
Cooking in your own Airbnb or hotel doesn't mean that you have to miss out on the culinary experiences of a local destination.
For example, in a waterfront city like Seattle where a fish market is one of the primary tourist destinations, purchasing fish fillets, an in-season vegetable, and a bottle of wine ensures that you can still have an essentially local dining experience without the expense or unwanted extra calories of dining out. In international destinations, check the spice aisle for options for easy-prep local dishes (like the local's version of Hamburger Helper® or Rice-a-Roni) and pair them with fresh vegetables for a semi-authentic meal.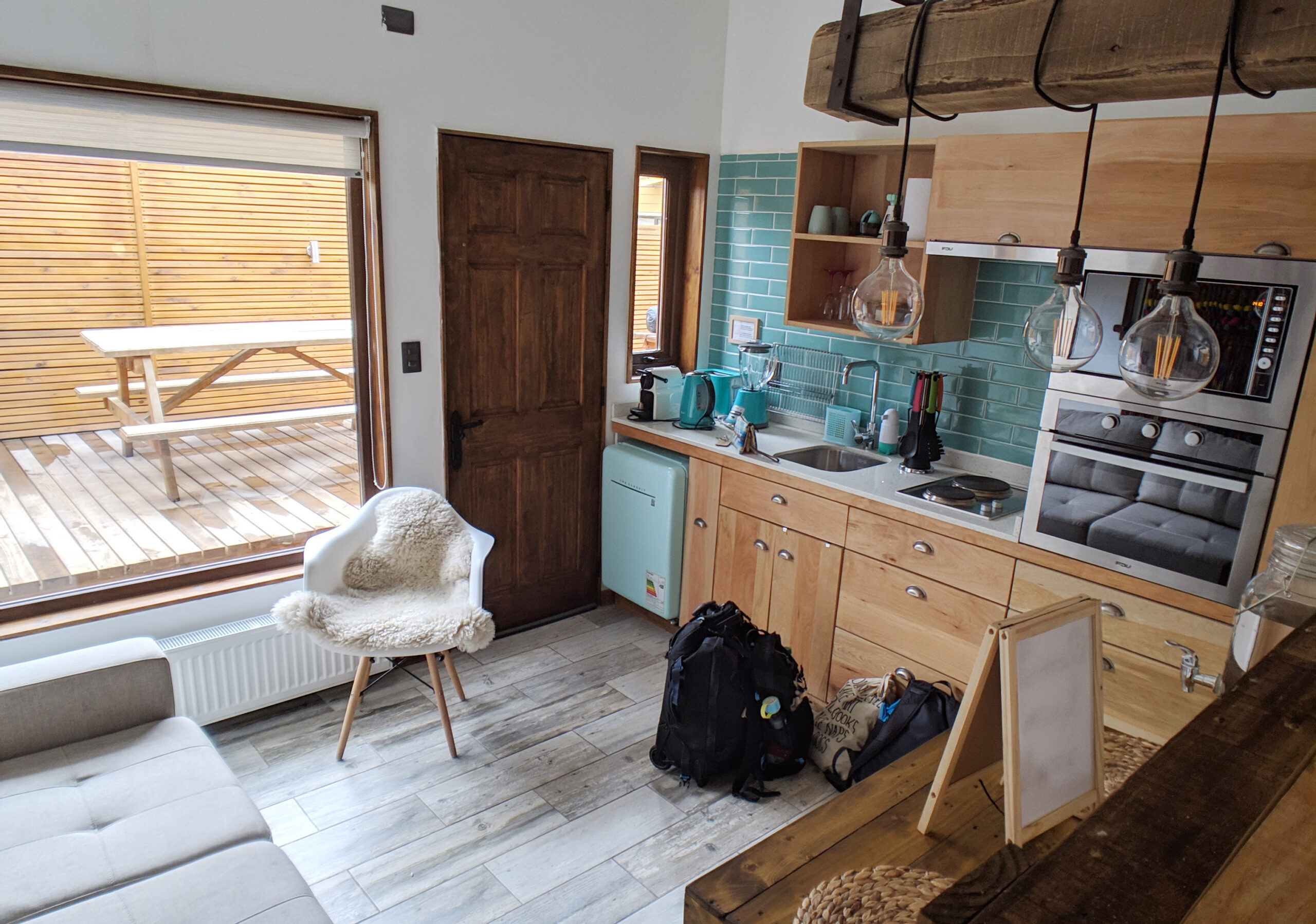 3. Set your Personal Nonnegotiable Healthy Eating Goals
The psychology around food is particularly interesting, and through dieting, many of us spend years in cycles of restriction and binging. Nowhere is this more apparent than during travel: While many travelers consider their travel time to be automatic "cheat days" in which any and all nutrition goals go out the window, others may cling to overly restrictive rules and miss some of the amazing eating experiences that travel can offer.
While many of us spend years breaking free from the cycle, a simple way to lessen the power of this black-and-white dichotomy during travel is to set personal "non-negotiables". These tend to work best when they are things we commit to "add on" rather than "abstain from".
For example, instead of obsessively counting carbs during a seven-day cruise, or, on the flip side, eating your way through one buffet after another, a few non-negotiable healthy eating goals might be:
drinking 4 glasses of water a day
eating one vegetable each day
having a piece of fruit before coffee in the morning (a metastudy in 2017 found that coffee dulls appetite, which may lead to meals that provide insufficient energy for the demands of travel and, ultimately, mid-day energy crashes)
These small goals can actually help us stay grounded in our bodies and in our healthy eating while traveling goals, while also experiencing freedom from binging/restriction/guilt cycles of dieting.
4. Carry snacks and eat before you get "Hangry"
Sometimes when we're trying to eat healthy while traveling, it translates to not eating at all between very large and decadent meals at restaurants. The problem is, our bodies need energy throughout the day – especially while traveling and exploring new destinations (source).
For solo travelers in particular, both hunger and mild dehydration can actually make us much more vulnerable to theft, scams, and other travel crime. Snacking and drinking water, then, are not just ways to eat healthy while traveling but are also ways to keep ourselves safe.
Instead of fasting completely between meals, keep a supply of snacks in your bag along with the essentials you keep in your city-exploring daypack.
TIP: Pack a few granola bars or other ready-to-eat processed foods in your checked baggage (fresh foods are often restricted from international border crossings) on outbound international flights. Once in your destination country, try to keep a small supply of both nutrient-dense snacks (like nuts or dried meat) and fruits/vegetables (like apples or dried fruits) around for snacking. These snacks can help to keep your energy stabilized through long travel days. On your return trip, you can fill the empty space in your luggage with souvenirs!
Final Thoughts on Healthy Eating While Traveling
Travel is a time to explore the world, and eating well is how we fuel that adventure. While the experience of decadent meals in restaurants and greasy street foods can be a vibrant part of the travel experience, balance may come through efforts to eat, during travel, in a way that sustains our health and energy.
These four tips for eating healthy while traveling can be simple changes that anyone can make to their travel itinerary that will help support their own healthy eating goals during travel.
Peer Reviewed References for Health Information in this Article:
Caloric Restriction Experience Reprograms Stress and Orexigenic Pathways and Promotes Binge Eating Diana E. Pankevich, Sarah L. Teegarden, Andrew D. Hedin, Catherine L. Jensen, Tracy L. BaleJournal of Neuroscience 1 December 2010, 30 (48) 16399-16407; DOI: 10.1523/JNEUROSCI.1955-10.2010
Relation Between Dieting and Weight Change Among Preadolescents and Adolescents Alison E. Field, S. B. Austin, C. B. Taylor, Susan Malspeis, Bernard Rosner, Helaine R. Rockett, Matthew W. Gillman, Graham A. ColditzPediatrics Oct 2003, 112 (4) 900-906; DOI: 10.1542/peds.112.4.900
Sugar rush or sugar crash? A meta-analysis of carbohydrate effects on mood, Konstantinos Mantantzis, Friederike Schlaghecken, Sandra I. Sünram-Lea, Elizabeth A. Maylor, Neuroscience & Biobehavioral Reviews, Volume 101, 2019, Pages 45-67, ISSN 0149-7634, https://doi.org/10.1016/j.neubiorev.2019.03.016.
Consumption of apples is associated with a better diet quality and reduced risk of obesity in children: National Health and Nutrition Examination Survey O'Neil, C.E., Nicklas, T.A. & Fulgoni, V.L. (NHANES) 2003–2010. Nutr J 14, 48 (2015). https://doi.org/10.1186/s12937-015-0040-1
Caffeine, coffee, and appetite control: a review, Matthew M. Schubert, Christopher Irwin, Rebekah F. Seay, Holly E. Clarke, Deanne Allegro & Ben Desbrow. (2017) International Journal of Food Sciences and Nutrition, 68:8, 901-912, DOI: 10.1080/09637486.2017.1320537
A Critical Review on the Role of Food and Nutrition in the Energy Balance. Bo S, Fadda M, Fedele D, Pellegrini M, Ghigo E, Pellegrini N.Nutrients. 2020; 12(4):1161. https://doi.org/10.3390/nu12041161
This article was handwritten by me, a real human creative! Keep me creating sustainably by exploring the link below: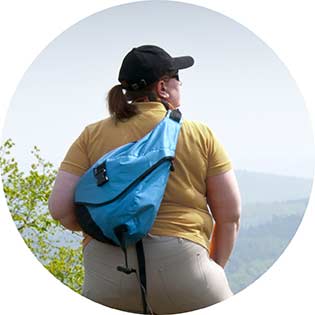 Artist, digital nomad, and highly sensitive person, Lynli started traveling full time as a digital nomad in 2018. Writer and Illustrator by day, remote-destination explorer by other-days, Lynli is passionate about pushing the boundaries of her own comfort zone, exploring the world as a plus size, one-bag traveler, and journaling it all on WanderBig.com