Glacier National Park is one of the most beautiful national parks in the contiguous US (don't worry, Alaska, we aren't comparing your remote and breathtaking parks in this mix!).
From lakes filled with colorful rocks to waterfalls cascading cold water down well-worn crevasses, from glacial peaks consistently covered in snow to views that will absolutely stop a person in their tracks, begging to be regarded – there is a reason it Glacier National Park has exploded in popularity. These are just a few reasons this national park is worth visiting- read on to learn more!
What is Glacier National Park & Why is it worth seeing?
Glacier National Park is located in Northwest Montana and extends to the Northern border of the United States (and actually has a partner park across the border in Canada – Waterton Lakes National Park!). Glacier National Park is filled with glacial peaks, glacier-fed lakes, alpine meadows, dense forest, crystal clear waterfalls, and a wide range of wildlife (including the occassional grizzly wandering into campgrounds!). It is truly a magnificent sight to see.
This national park is located on Blackfeet, Salish, Pend d'Oreille, and Kootenai land – with the eastern side of the park still greatly influenced by- and respectful of- the Blackfeet tribe.
Glacier National Park is a Park for Everyone
Glacier National Park is a place anyone can enjoy: If you're an outdoor enthusiast, you'll be in heave with the vast options for locations and varieties of hiking. If you are an animal lover, there's a good chance you'll see your fill, even just from the road. If you seek a vacation where you can recover from burnout– there are vistas and resting spaces with beautiful sights everywhere. From Glacier National Park you're in for truly a lifetime's worth of scenic overlooks.
Accessibility: As a National Park funded by both paid admission and federal tax dollars, much of the vistor-friendly areas of Glacier National Park are well developed to be accessible for many ages and abilities of humans. If you're traveling with children, there is plenty to do in Glacier. Like it's South Merican's equivalent, Los Glaciares National Park, in America's glacial national park the trails around the park offer a stunning variety of activities. From hiking to dipping your feet in streams, and from spotting animals to skipping rocks – there is a range of natural options for entertainment and relaxation.
Timing your visit to Glacier National Park
Because Glacier National Park sits at a high elevation at a high latitude, the window for visiting the park in pleasant weather is a brief window in the summer. This is especially true if your plans include driving the Going-to-the-Sun Road, which runs from the East Entrance to the West Entrance and provides the best, most expansive views of the park.
Late-June to mid-September offers visitors the best weather and open access to roads free from snow and Ice. Personally, I've visited as early as April and was still able to access most parts of the park. April, however, brings cold, gloomy weather and possibly frequent snowfall. (A dreamy and moody backdrop for a relaxing lodge vacation for introverts, but perhaps could have been disappointing to outdoor adventurers unprepared for winter activities!)
During the winter, more of the park operates as "primitive," meaning facilities are not fully open and running, and the Road to the Sun remains closed (requiring the East and West parts of the park to be visited separately). As the partner shoulder season to April-May, visitors in September-October can expect similar conditions unless you get particularly lucky with unseasonably warm weather.
The Best Places to Stay in this National Park
There are plenty of campsites within this National Park, as well as backcountry campgrounds for which you can attain permits ahead of time (note: COVID regulations are in place, limiting the amount of permits available).
There are also plenty of lodging options outside of the park! One of the best-hidden gems is the Chewing Black Bones Campground (a campground run by the Blackfeet Tribe). It has electricity and water hookups for RV's and fifth-wheels, as well as tent-only sites. All campsites have tables and fire-pits, and the campground itself is equipped with modern bathrooms (including hot showers!)
There is a store on-site and a playground in the middle of the campground- both a delight to my toddler – especially the store, which offered a selection of ice cream. The staff is responsive and friendly, and the views around are incredible. The campground itself sits on Lower Saint Mary Lake, and the tips of glacial peaks inside GNP can be seen to the West.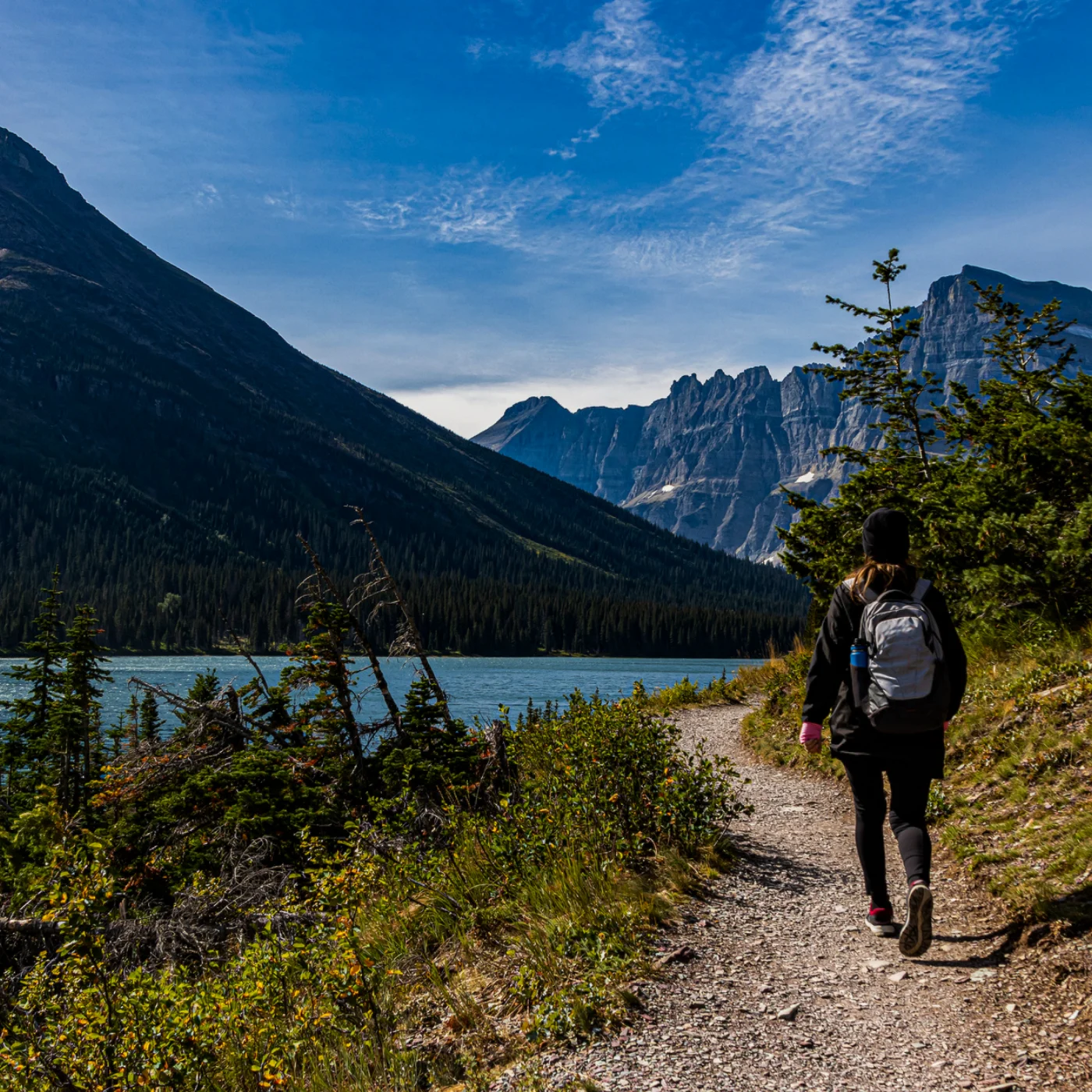 Glacier National Park Entrances- Which is Best?
From where the Chewing Black Bones Campground, there are three close access points to enter Glacier National Park. It is a 12 to 15 minute drive to the St. Mary's Entrance, a 20 to 30 minute drive to the Many Glacier Entrance, and a 60-minute drive to the Two Medicine Entrance. Each of these entrances invites you into unique areas of the park, each with its own activities and offerings (and each with its own Visitor Center and Ranger Station).
If you are traveling with young children, definitely explore the options before diving into an area. If your children are anything like mine, it's a one-area-of-the-park-a-day type of tolerance when it comes to time spent in the car! Each area has great options for hiking or hanging out for all ages.
St. Mary's Entrance
The St. Mary's Entrance is the busiest since it enters the park via the eastern section of the Going-to-the-Sun Road. Outside this entrance, you'll find a gas station, a lodge, a grocery store, and a cafe with an ice cream shop (get a scoop of the huckleberry!) This is one of the most popular spots in the area, making it a good place to refuel or grab that one grocery item you forgot to pack.
Inside this entrance, you'll find a myriad of trail options for hiking and sight-seeing; or you can simply drive the road and take in the views from there! Of the trails in this area, I recommend visiting St. Mary's Falls (rated easy-moderate), which intersects the Continental Divide Trail, and the Sun Point Nature Trail (rated easy).
The Many Glacier Entrance
The Many Glacier Entrance welcomes you into a more remote area of the park, only accessible by this entrance or by back-country trails. Because of this, there are many back-country campgrounds to camp in within this area, as well as some difficult trails to tackle. Of the popular trails, Grinnell Glacier is a must-see for those willing and able to manage the hike, which would be rated moderate-difficult. For those who find that trail a bit beyond their ability, there is an overlook inside the park via the Going-to-the-Sun Road.
Another popular hiking destination in this area is Iceberg Lake (yes, literal icebergs in the lake most of the year!), which is what I took on. The trail is moderate in rating, and offers a stop at Ptarmigan Falls and expansive views of meadows, valleys, and peaks along the way. This trail is fairly exposed, so plan accordingly.
Two Medicine Entrance
The third option for entrance into Glacier National Park is via the Two Medicine entrance. Similar to the Many Glacier entrance, this area is only accessible via this entrance and back-country trails. This is a smaller area within the park and yet is just as beautiful as the surrounding area.
The trails in this area – besides the back-country trails – are easier to access and travel. There is also the option of taking a ferry ride (check out my tips on making the most of a ferry ride) from one side of the lake to the other, with a stop to see Twin Falls, via a short hike, before returning to the Visitor Center. If you're up for a longer stroll, you can begin at the Visitor Center and hike around the lake, seeing both Aster Falls and Twin Falls (and possibly a moose that will catch you by surprise! Did you know how TALL those things are?).
If you're feeling really into a remote experience, Cut Bank is also an area worth exploring. It is a primitive, remote campground with first-come-first-serve options, and one trail connecting it to the park via back-country routes. (Note: not the best place for children – My last visit to this area was before having kids!)
The following section may contain affiliate links. As an Amazon Associate, we earn from qualifying purchases.
Can I visit Glacier National Park without a Car?
Glacier National Park is a vast area of remote wilderness segmented by a few roads. For most visitors, access to a car is essential to visit Glacier National Park, but there are two exceptions:
Join a group for a van tour of the park – For international or budget travelers who may not want the hassle of a rental car, a van tour is one of the best ways to see a National Park. It offers the convenience and safety of having a professional driver while avoiding the challenges of dealing with rental cars, ubers, taxis, or public transportation. Van tours of Glaciers National Park can be found via Get Your Guide.
Sign on with a guide and enjoy backcountry hiking at its best – Get Your Guide can connect you with an experienced backcountry guide who can help you all the way through the process of getting a camping permit to delivering you back safely to your starting point. Most tours start from a main entrance of the park, so if you are visiting Glaciers National Park without a car you'll need to arrange for pick up from a nearby hotel or get to the entrance via public transportation or shared ride.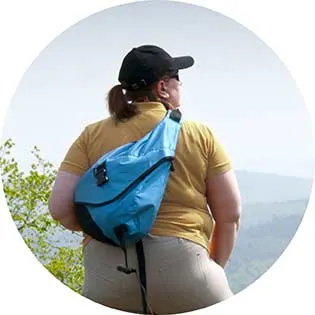 Lynli Roman's unique approach to travel is informed by decades of experience on the road with a traveling family and, later, years spent as a solo international traveler. When she's not writing about Seattle from her Pike Place Market apartment, Lynli writes on-location while conducting hands-on research in each destination she covers. Lynli's writing has been featured by MSN, ABC Money, Buzzfeed, and Huffington Post. She is passionate about sharing information that makes travel more accessible for all bodies.