There's no single bag that's the right bag for everyone, but here are my tips to finding and buying the perfect suitcase for you.
The first step to traveling well is often choosing a bag, a packing list, and the right supplies that make it easy to enjoy travel without the need to spend energy or expense lugging around stuff you didn't really need.
One bag travelers are those who choose to travel with only hand luggage. With just one bag, travelers have the freedom to explore more freely, dedicate more energy to travel, and enjoy having less to keep track of while on the road.
Whether you are planning a month-long international trip or just a local weekend getaway, the right suitcase can enhance your travel experience. In this article, we'll review ways to determine what type of suitcases is right for you and ways to try out bags before you even start shopping.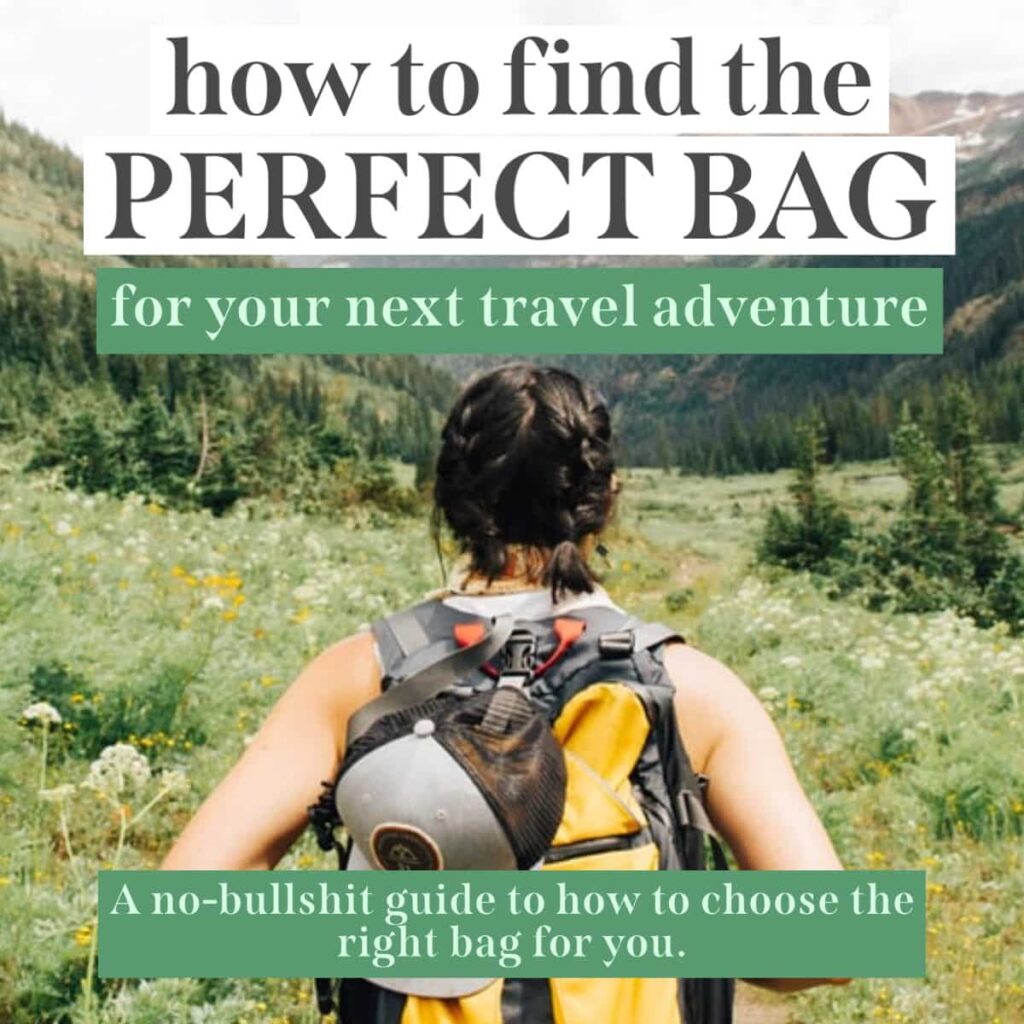 The Best Bag for One Bag Travel
Remember to make your suitcase work for you. Traveling light especially can help you travel with more enjoyment, freedom, and ease- although sometimes the process of buying a suitcase is a frustrating hurdle to get over at the start!
Online communities and forums dedicated to the art and science of traveling with minimal luggage make a huge fuss over buying "the perfect bag." Often, the bags touted as "must-haves," with the most vocal recommenders, retail for hundreds of dollars– or even over $1000 in the case of a few that are favorites among the biggest travel "influencers."
Here's the thing about people recommending bags: They're usually getting an affiliate commission. An affiliate commission gives someone a payment whenever someone follows their link and purchases the bag they've recommended. Since affiliate payments are usually based on a percentage of the total cost of the item sold, bloggers and influencers will mostly recommend high-priced luggage that pays a higher affiliate commission. These high-end bags get recommended not because they are the best, but because the most expensive bags pay more money to individuals with something to gain from recommending that you buy an expensive suitcase.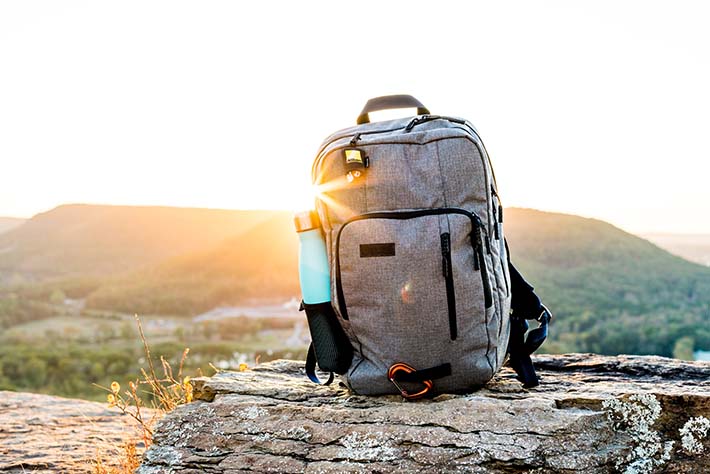 The Most Popular Bag for One Bag Travel
Given this, it probably won't be a surprise to hear that most solo travelers don't actually travel with particularly expensive bags (in fact, it can be a travel safety issue to carry luggage that makes you look like a prime target for crime). The most popular bags are often less expensive bags. In the case of backpackers and solo travelers, for many, their favorite bag is simply the bag they are used to. It may not be nice, it may not be fancy, but it's trustworthy, and that counts for a lot when you consider the hassle of getting stuck at a remote destination with a bag that is broken, unusable, or just a drag.
How to find the right bag for you:
Here's where I differ from most travel bloggers. While I don't mind sharing with you the bag that I travel with (you can find a description of why it works for me and, yes, an affiliate link for it, below), I'm not going to try and sell you my bag- because I know what works for one person as the perfect suitcase often won't work for another person's travel needs.
Instead, I'll share the best ways to find and buy the right suitcase or backpack for your body and your travel needs- without spending a fortune buying and returning- or learning the hard way which bag is not right for you.
#1 Start by Evaluating your needs and travel style
How, where, and what you value will determine the best bag for you. If you tend to travel in urban areas, you might lean towards a roller suitcase for convenience. For travelers in remote, unpaved, or cobblestone street locations, roller bags can be a liability and hassle. Perhaps a backpack or even a duffel bag may be a better choice for you.
Do you value simplicity, or lots of bells and whistles?
Is your body slim, heavy, or wider than average? If you're looking for a backpack as your onebag, your build can significantly impact the type of backpack you need. Plus size travel packing lists may require more space.
What's your goal for buying a suitcase? Do you want one gigantic check-able bag that contains a large variety of clothing options and supplies? Or do you want to pack ultra-light and travel with just a carry-on sized piece of luggage and one or two outfits that can be easily washed in a sink? What you want to pack will have a huge impact on the size of the backpack, suitcase, duffel bag, or luggage you'll need for your travel adventures.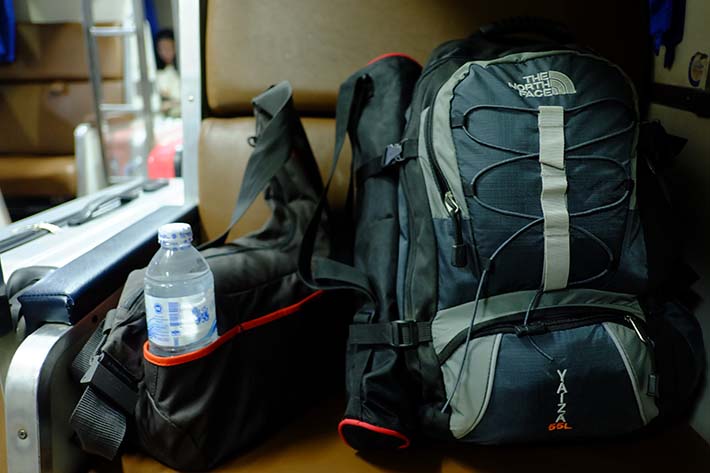 #2 Next, Reach out to your social circles and borrow bags for short trips.
Now that you have decided what priorities you have for your bag, it's time to start sourcing bags.
Even if you have the financial means to order various bags to try, it's a good idea to borrow bags first. Why? Often we need to take a trip with a bag before we know if it's the right bag for us. By the time we return from our test trip, we are often well outside the return window or returnable condition.
Instead, once you've decided what kind of bag you want (small carry-on suitcase, large roller suitcase, backpack, duffel, etc.) post a message to your social media. Ask friends and family to borrow a bag.
Most people, most of the time, or not actively using their suitcase or luggage. It's a perfect opportunity to borrow from a friend or family member for a short trip to see how using a bag of that type– or that exact model- might feel.
#3 Shop Second Hand to Trial Bags
Free: In some areas, "Buy Nothing" or "Gift Everything" groups have sprung up on social media- these hyperlocal online communities encourage members to give things away to build community and sustainability. These groups can be a great place to find a bag to borrow or even keep. You might even end up with your perfect bag absolutely free! If a bag doesn't work out, you can just gift it along to someone else.
Low Cost: As a first-time one bag traveler, you'll be experimenting with your travel and your packing style. Having a low commitment to a bag means you can adapt switch on the fly without feeling obligated to use a bag you've invested in.
By shopping for bags at thrift stores or via secondhand marketplaces such as Craigslist, Facebook marketplace, or OfferUp, you may be able to get your hands on the perfect bag for you– that turned out to be not perfect for somebody else. Luggage has a high turnover rate and is easy to purchase secondhand at a discounted price, because of how often people purchase and commit to a bag before really knowing if it will work.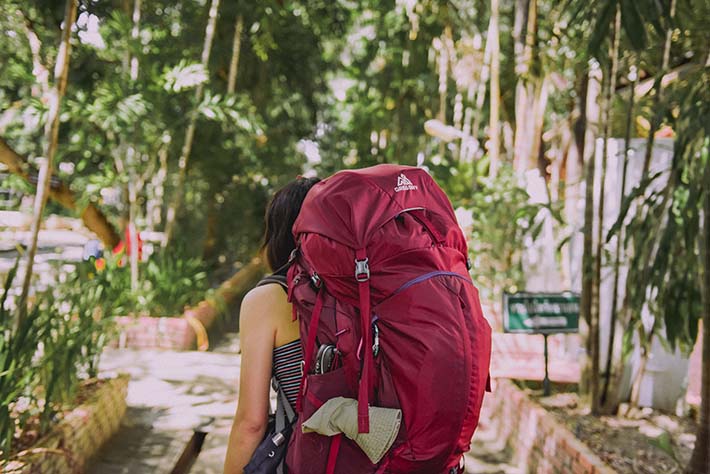 #4 If You Still Need a Bag, Use this Trick to Buy:
If borrowing and thrifting don't score the perfect bag, at least by this point you've got the data you need to make an informed purchase. With an understanding of your travel and packing style and the needs you have in a bag you can now order a new bag to test how it feels in your hand, try out how it feels on your body, to examine the quality, and to even test it packing and unpacking.
The following section may contain affiliate links. As an Amazon Associate, we earn from qualifying purchases.
TIP: Unless you are confident that you have found the exact bag you want, always order several similar backpacks or suitcases in multiple price points. This lets you compare and, perhaps, get a great bag for much less than you expected or budgeted to pay.
Great bags don't have to be expensive. This giant $20 backpack is frequently mentioned in One Bag Travel forums as a user favorite.
Trialing a Backpack:
TIP: The comfort of backpack style bags is particularly dependent upon proper fit to your body. Be sure to select a bag appropriate to your body size and type. Then, watch a few YouTube videos on how to adjust a backpack to fit and load your bag. To really give it a test, hop on a treadmill to get a sense of how the pack will really feel as you venture through trails, airports, and destinations both urban and remote with your entire packing list on your back.
My Favorite Bag
I discovered my perfect bag for one bag travel via the instructions above. When I began talking about an upcoming trip to Croatia and Bosnia, a friend who highly recommended her bag suggested I take her bag with me.
After spending five weeks with her Eagle Creek convertible bag, I was sold. I love it because it's highly convertible: it can be one large bag or two smaller bags. The entire thing can roll as one, or be configured so that both bags are worn at once. For me, the flexibility to switch from one big bag to two smaller bags, and from suitcase to backpack, to day pack is ideal. I love my bag because it's well made, has tons of extra features, is covered by a "No Matter What" warranty. It also saves me money on every trip by being convertible to one checkable bag or two separate bags that fit under the carry-on limit for 90% of airlines.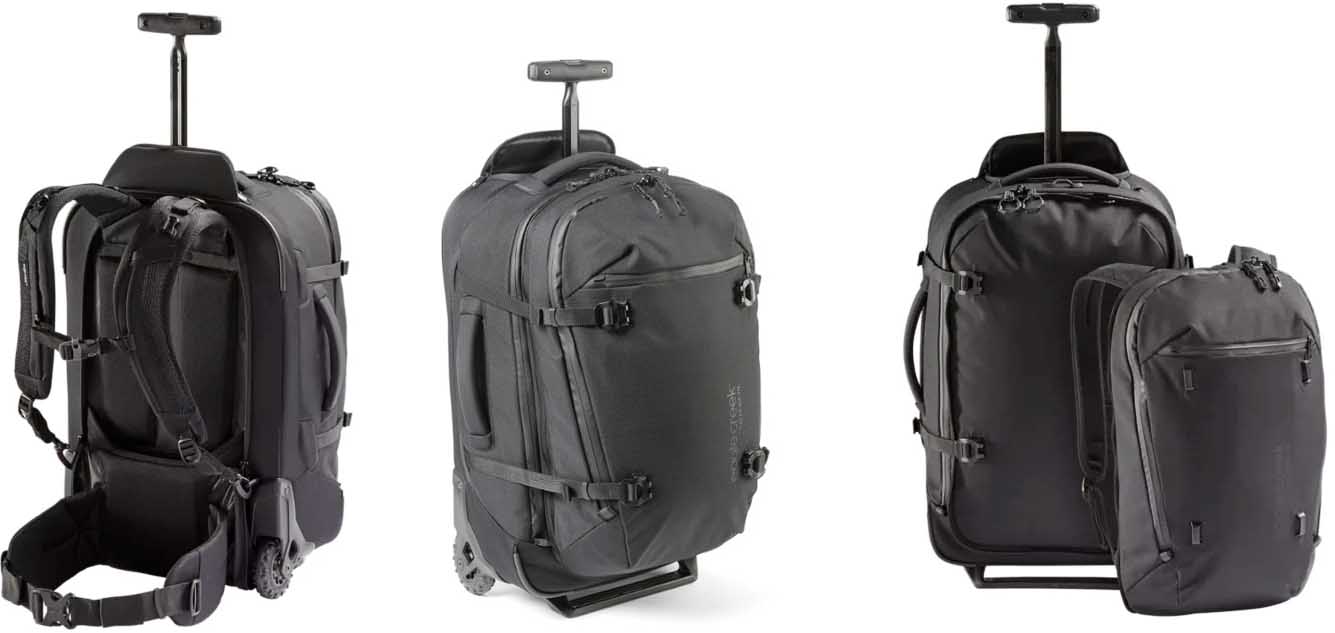 My favorite feature of the Eagle Creek convertible bags that I adore is that it switches into what I playfully call "frontsies-backsies mode" – that is, the carryon-size suitcase converts to an impressively comfortable backpack to be worn on my back, and the daypack securely attaches (via special clips on the straps of the larger bag) to my front side. This has been a lifesaver in remote destinations in Chile, Argentina, and Romania, where using it as a roller bag would have gotten me mired in the disty streets, and in the city streets of Florence, where cobblestones would have rendered a roller bag useless.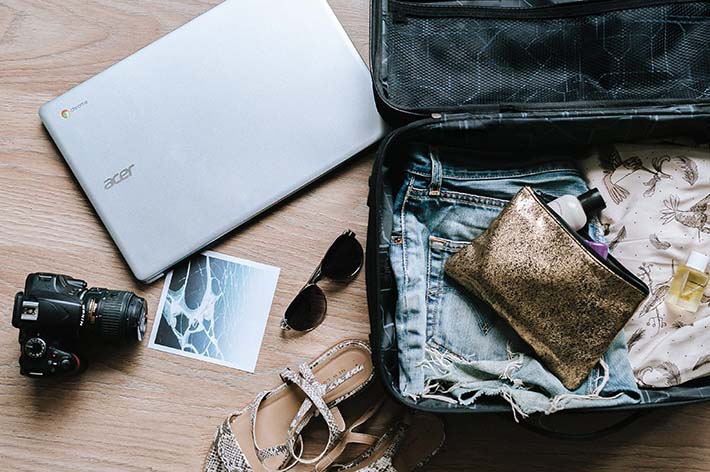 How to Buy the Perfect Bag, Suitcase, or Backpack for Travel
Evaluate your personal needs and travel style
Everyone's perfect bag is different! Before you shop, use this checklist to determine what your needs are for a good travel bag
Borrow Bags for Short Trips
Before investing in a bag, ask friends and family if you can try their bag. Try short trips with a suitcase, backpack, carry on, and a duffel to get a sense of what works best for you.
Shop Second Hand to Trial Bags
Bags are an investment many people make without thinking first. Check thrift stores and online listings to snag a deal on the bag you think might work for you. If it doesn't- you can resell it without taking a loss.
Use our Tips for Buying New
Read the full article for some best practices for scoring the perfect bag straight from a retailer.
Test your Bag Before Leaving Home
Before heading off on an adventure that will void your ability to return the bag, use our tips for fully testing your back or backpack's quality and fit- without ever taking it out of your living room!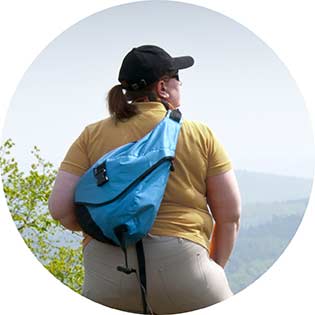 Lynli Roman's unique approach to travel is informed by a Masters Degree In Counseling Psychology, previous work as a research assistant, and decades of experience growing up on the road with a traveling family. When she's not writing Seattle-focused content from her Pike Place Market apartment, Lynli writes on-location while conducting hands-on research in each destination she covers. Lynli's writing has been featured by MSN, ABC Money, Buzzfeed, and HuffingtonPost. She is passionate about sharing information that makes travel more accessible for all bodies.