Travel is one of the most vibrant experiences of life. When our days. during a trip, are filled with adventure, new experiences, life-changing experiences, our brains soon adjust to epic days as a new normal.
It's no surprise, then, that returning from a big trip often comes with a bumpy landing in the form of travel depression.
Not to be confused with major depression, a clinical mental health diagnosis, occasional depressed moods – like those common for many travelers after a trip- are normal. Healthy brains shift from highs and lows- and may struggle to adapt and regulate after a season of adventure-fuled travel.
When you get home from a vacation and return to reality, everything seems dull and ordinary. The "ordinary" feel of normal life, after a few days, weeks, or even months of travel can cause us to be depressed and uninterested. If you are experiencing post-travel depression, we've listed a few things that can help improve your mood and not let your brain wander off to the dreadful routine or dull days ahead.
Mindfully Remember All Feelings are Temporary
All emotions- even really strong ones- come and go in time. (This concept is behind the popular mindfulness exercise used in many recovery programs: Urge surfing)
For the vast majority of travelers, a period of low mood after travel is temporary. New research in 2022 actually found that, based on a group of over 8524 South Koreans, "The risk of depression increases for people who do not travel, and a reciprocal relationship exists between travel and depression." 1
That same study, published in Annals of General Psychiatry, found that "Participants who had not traveled for one year had a 71% higher risk of suffering from depression in the following year than did those who had traveled." 1
Accomplish Small, Short-Term Goals
This is the best time to start goal-setting and to finally start the wheel turning for a few things that you have been wanting to do. Sit and start a list of things that you want to achieve like organizing your phone's photo album or your desk drawers!
I like dedicating these days to going through my photos and selecting the best for that IG #photodump!
Redecorate Your Room
Having a fresh perspective may come from a new set of wallpapers, curtains, and pillow cases. Anything new that you can change your field of vision might help shed a light on your dull post-travel days.
You can also start with a few decorations if totally revamping your room is not an option, like having a new poster or prints of photos from a previous trip. Seeing these up on your wall will definitely help lighten your mood every time you pass by them.
Learn Something New
Building a new habit can be the best thing you can start during this time. You can take online classes, or even search for self-help videos on things that you want to learn. It can be a new musical instrument (time to take the dust off your guitar or piano), drawing, or painting!
Self-care habits like a new skincare routine or a gym membership will also be beneficial to help you go through this phase – plus you end up with glowing skin and a healthy physique too!
Treat Yourself Out
An elegant dinner or lunch in that fancy restaurant? Those new shoes that you have been eyeing? Go ahead and treat yourself! Even with a box of pizza or a whole cake all for yourself – just make sure it's consumed in moderation!
Whatever your heart desires (and your budget allows), don't skimp on your purchase to reward yourself. I personally like doing online shopping post-travel days especially since I always have a few stashes left from my travel budget. This gives me something to look forward to!
Be A Tourist In Your Own Town
How well do you know your city or town? Have you really ever been to every corner and every street? There might be a new café or bookshop that you haven't visited! Try to pretend as if you are a tourist and go explore your hometown today! You might be surprised by what awesome places hide around the corner. A staycation might be just what you need.
You can spend one day trying out all the coffee shops, and the next day searching for the best pizza place. You can also visit libraries and museums to immerse yourself in the local culture and get in touch with some home-grown inspirations.
Volunteer Work
Volunteering will not only make you feel accomplished! It would also do your community good and help you find new connections. I found one of my longest friends through volunteer work, and we have always been signing up together for opportunities since then.
Go ahead and search for active volunteer workers needed around you, like local animal shelters, senior citizen organizations, or youth and sports programs and see how beneficial and mentally stimulating it will be!
Maximize your Free Time
All this free time can be spent creating something – either from scratch or from D.I.Y stuff that's being sold in stores. It can be a coloring book, journal kit, or scrapbooking kit. If you aren't feeling artsy, you can also spend this time on a self-awareness journey through meditation or yoga classes.
You may also have a book or a podcast that you have been wanting to mark off from your list. When you're done, the end result will be rewarding and will often leave you wanting more.
Host a Micro-Party
When you're feeling down with post-travel depression, you don't see yourself socializing just yet. However, this may actually be the time to host a dinner party or even a simple get-together afternoon with family or closest friends. The preparation time will keep your mind busy and the party mood will certainly make you forget your depression.
If you and your guests are up for it, you can even have a costume party, and who knows – you all might have the best time together on this out-of-the-blue event.
Get in Touch with Old Friends
There are many ways to reconnect with old friends and while some of them may start off as a little bit awkward, you'll be sure to end up having dinner or coffee with a couple of friends. I did have a recent rekindling with one of my high school friends, and it surprised us both that it felt like there were no years in between the last time we talked.
You can start by sharing an old photo via email or messages, and let the conversation flow from there!
Final Thoughts
It can be harder to keep a positive attitude while you are dealing with post-travel depression, but these activities can absolutely help you focus on the good stuff. There is also no shame in seeking professional help during this time.
For most travelers, post-travel depression is as fleeting as jetlag. However for some, it may require professional care. If your post-travel low-mood begins to take the form of appetite changes, difficulty getting out of the house, sleep problems, and feelings of hopelessness, it's time to consult your doctor or a mental health care provider. Read more about signs of depression via the Mayo Clinic or WebMD.
💡 Hint: For many travelers, planning another trip can help ease the discomfort of returning to normal work, life, and social engagements after a big trip. Even if you won't be traveling again for many months, putting a little time into researching your next trip can help you ease into your return home while remembering that there are more adventures on your horizon.
On your next travel, try to observe the ambiance on the plane (or bus) that leads to your destination. You will see that most travelers are giddy, all dressed up, with their best accessories already displayed for those snappy photo ops. On the trip back, however – notice how some people look tired and spent as if they had not just had a vacation! It's the worn-out look that shows the depression slowly exuding from the inside.
Tell us how you avoid post-travel depression in the comments section below!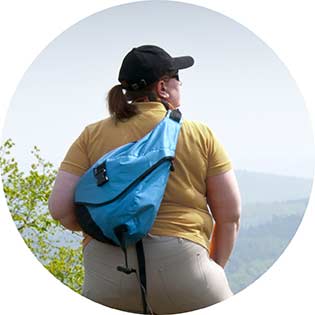 Artist, digital nomad, and highly sensitive person, Lynli started traveling full time as a digital nomad in 2018. Writer and Illustrator by day, remote-destination explorer by other-days, Lynli is passionate about pushing the boundaries of her own comfort zone, exploring the world as a plus size, one-bag traveler, and journaling it all on WanderBig.com
Sources
Hyun, S., Lee, Y., & Park, S. (2022). No travel worsens depression: reciprocal relationship between travel and depression among older adults. Annals of General Psychiatry, 21(1), 1-6. [↩][↩]