On the return trip from Croatia in July 2017, I sailed from Dubrovnik, Croatia to Bari, Italy aboard the Jadrolinija Ferry "Dubrovnik". On this return trip, unlike my first Adriatic crossing with Jadrolinija, I traveled on a daytime passage. This crossing made my first Jadrolinja ferry seem like a cakewalk!
Ferry Check In
Passengers are instructed to check in no later than 3 hours in advance of their ticketed departure. My Ancona-Zadar Crossing had clued me into the fact that the 3 hour requirement is, in fact, more of a suggestion than requirement, so I arrived for my 12pm ticket at 9:30am. Passengers were corraled in the port waiting area until loading began at 10-10:30.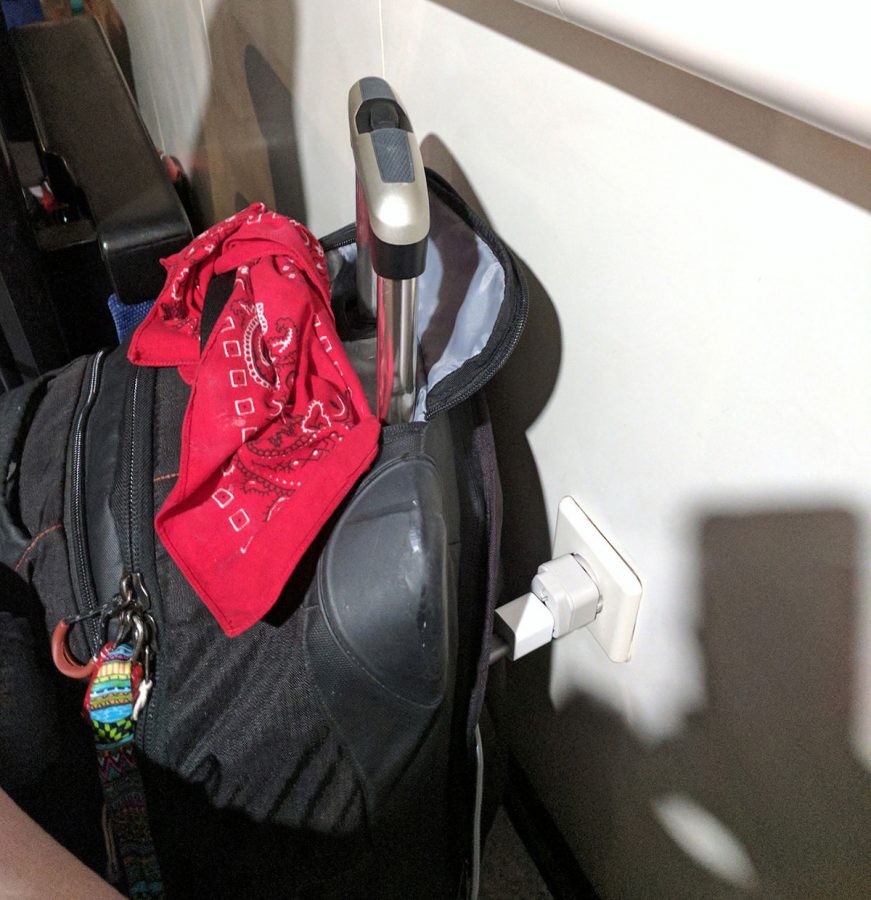 Checking In for Jadrolinija Ferry in Dubrovnik
Jadrolinija ferry tickets don't actually provide an address for check-in and departure. On this return to Italy, there was no address listed for ferry office check in so I walked down to the port to ask directions. The ferry ticket I purchased from DirectFerry insisted I check in 3 hours before departing since this was an international voyage, but I knew from my previous trip that was an exaggeration. Still, I arrived in port about9:30, for the 12 noon sailing, and found myself funneled into a seating area until passport inspection opened at 10:30.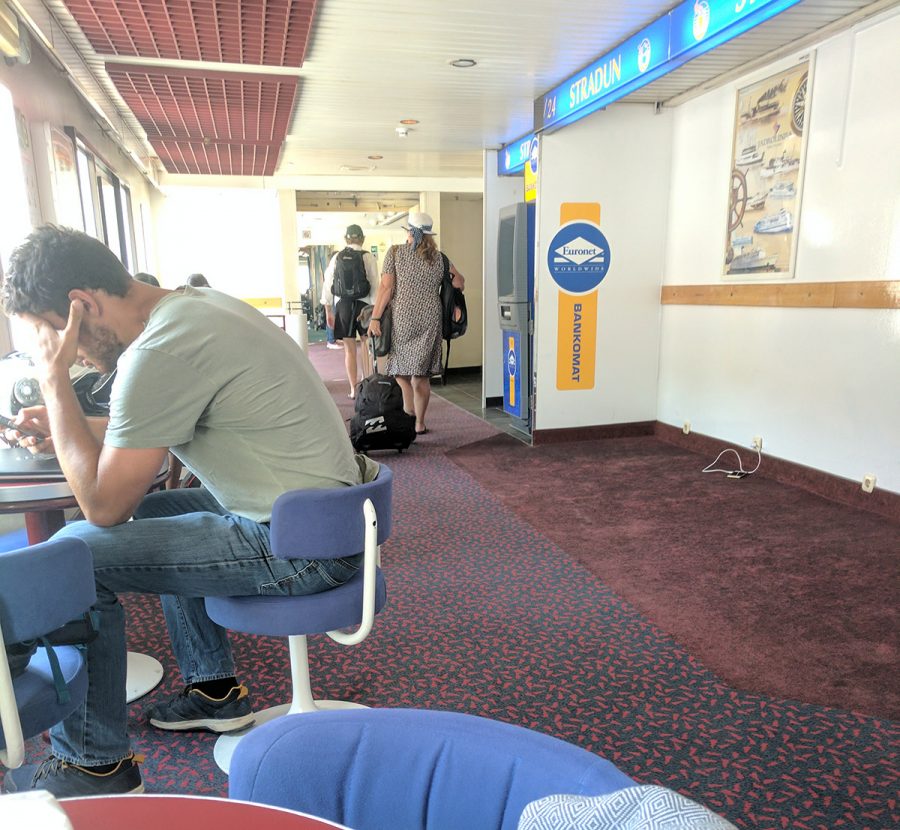 Deck Seating
If you are an average size human, expect the accommodations included with a "deck" level ticket to be less than ideal. As the photo above shows, the seating aboard this boat is scaled down for some reason. As a larger bodied person, I was miserable.
Follow for more Croatia Travel Hints
Aboard the ZADAR
Aboard the ship "Zadar," upgrading to a recliner seat was an unnecessary expense – I paid for the "upgraded" seat, but then moved to a deck seating table where I was able to work more comfortably for the whole trip with a table and reasonably supportive chair.
Aboard the DUBROVNIK
This vessel seems like it's designed to make passengers uncomfortable enough to pay for an upgrade mid-crossing. Aboard the Dubrovnik, I suggest upgrading to the reclining seats- unless this looks like a fun place to spend 10 hours:
Traveling as a Solo Traveler on an Adriatic Ferry
The least-vulnerable ticket for passage is the purchase of a cabin aboard the vessel, but my first voyage was sold out of cabins by the time I purchased and the second was a daytime sailing of around 7 hours, so a cabin purchase didn't seem like a sound investment.
I felt hypervigalent about my property board the day-crossing where hundreds of people were wandering the halls through the whole voyage. The evening crossing, however, felt much safer because there were people near, but no one paying attention or moving around the ship.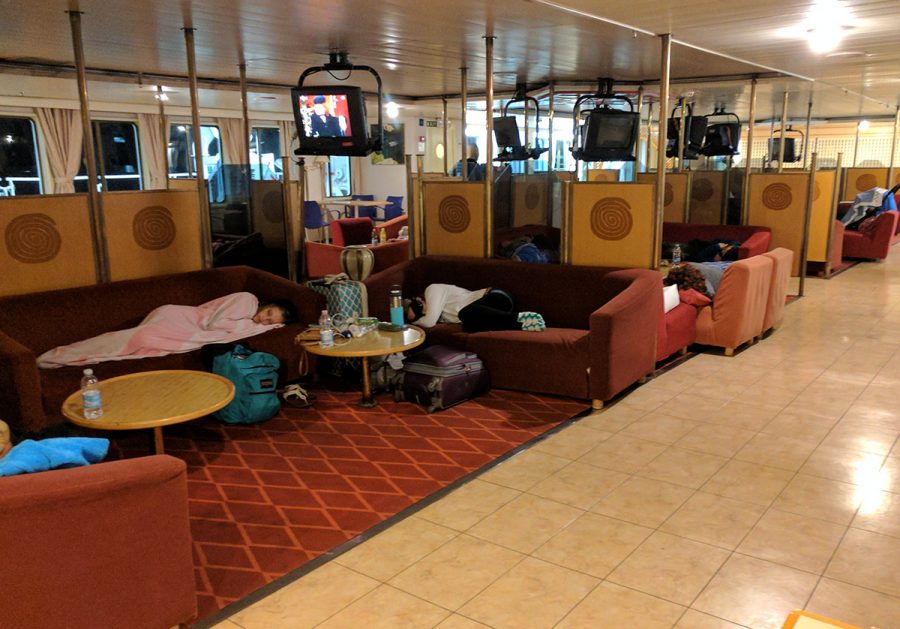 Overnight vs Day Trip Jadrolinija Ferries
I found the overnight ferry to be preferable to the daytime crossing. On the overnight ferry, the temperature was comfortable and once the ferry was about an hour into its course, almost every one of the passengers was settled into their sleeping quarters (either cabin or lounge couch) and I felt much more comfortable.
The daytime passage on the Dubrovnik (a ferry used for crossings from Bari Italy to Dubrovnik, Croatia, and back) was far more uncomfortable. The boat was crowded, had limited seating, and- as a crowded boat departing at noon in July- the temperature inside the vessel was nearly unbearable.
If you are choosing between a daytime crossing and an overnight ferry Adriatic crossing, choose the overnight option. Even if you don't sleep, you'll enjoy better seating, comfortable cabin temperatures, and a stunning sunrise over the Adriatic
Daytime Fery Walk-Through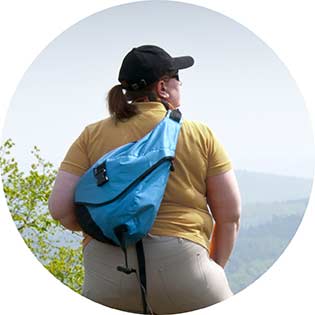 Artist, digital nomad, and highly sensitive person, Lynli started traveling full time as a digital nomad in 2018. Writer and Illustrator by day, remote-destination explorer by other-days, Lynli is passionate about pushing the boundaries of her own comfort zone, exploring the world as a female, fat, one-bag traveler, and journalling it all on WanderBig.com