Millions of travelers choose European destinations for Christmas vacation travel- it's the perfect season to enjoy popular European destinations with smaller crowds, invigoratingly cool air, and Christmas markets around every corner.
Whether you plan to stick to one city or travel all over Europe this Christmas, here are six of the top Christmas traditions to catch while you're in the Old World.
6 European Christmas Traditions Travelers Must Experience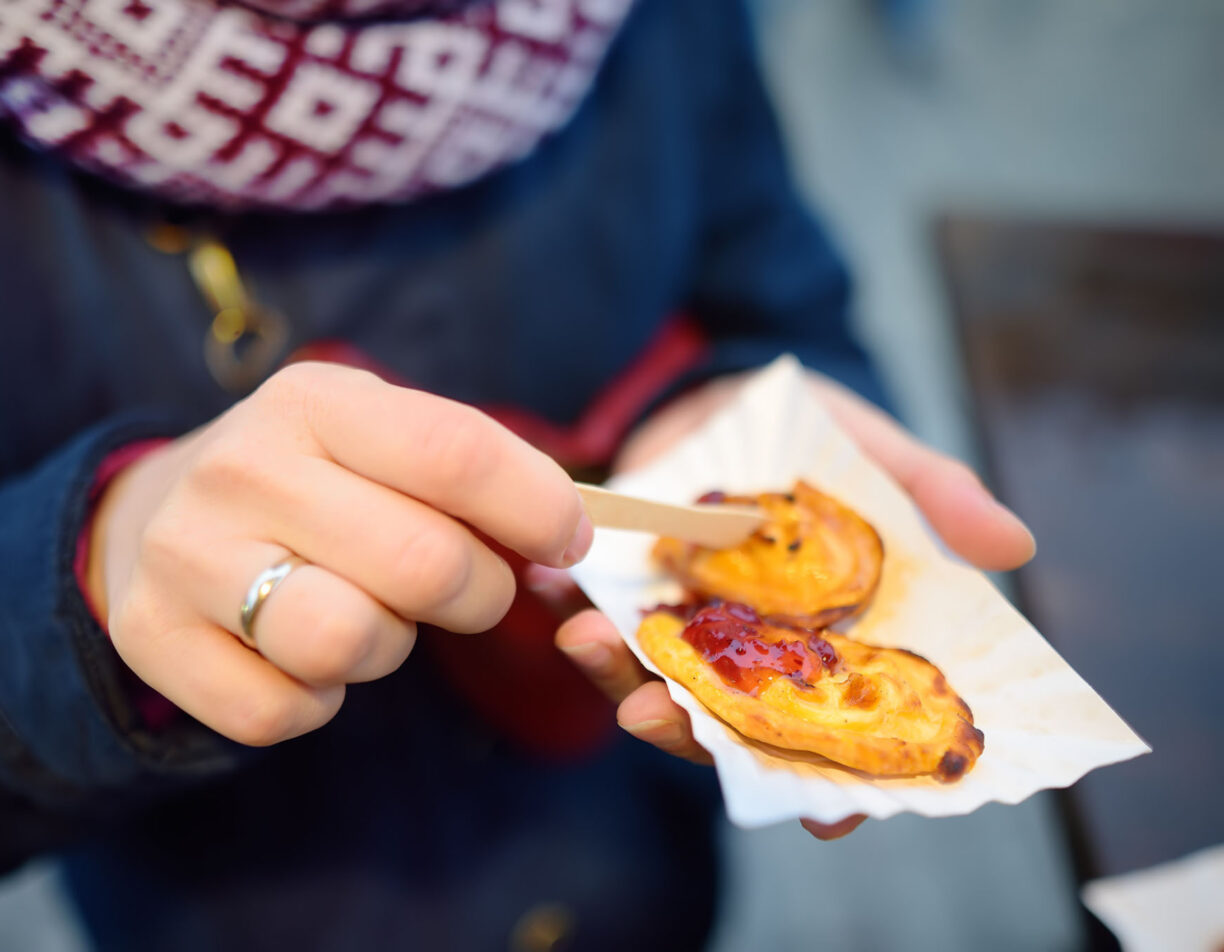 1. Shop at Christmas Markets
When you think of "European Christmas," the cozy and bustling atmosphere of a Christmas market is probably one of the first images that come to mind. With the chilly air and a possible dusting of snow, the traveler is instantly attracted to the warmth of a Christmas market in the city or village square.
Christmas markets can be found in most countries in Europe, although they look really different from place to place, even from city to city! Each market features local food, drinks, and Christmas traditions, often including art and handiwork. Just strolling through the local Christmas market can give any traveler a great sense of how people here celebrate the holidays, and it can lend some keen insight into the local traditions, as well.
2. See the Christmas Lights
Most European cities and towns spend the whole winter season decked out in festive lights. One reason for this is that the sun sets pretty early in most of Europe: as early as 4 pm in some of the northernmost reaches of the continent! To combat the winter darkness, people respond with colorful lights and lanterns that bring light to an otherwise gloomy season.
You can enjoy the Christmas tradition of warm lights on cold nights, and it's easy to find and enjoy the displays. Most city squares are lit up as soon as the sun goes down, and the decorations serve as the focal point of public space. Despite the cold, dark weather, it's not uncommon to find people hanging out in the square under the glow of the Christmas lights. You can join in on this tradition, and enjoy watching as people bustle through the holiday season under the square's brilliant light display.
💡 Hint: Check out our guide to taking photos of Christmas lights while traveling.
3. Eat Traditional Holiday Food
Just like Christmas in the USA, food plays a major role in the Christmas traditions and celebrations in Europe. From big meals with friends and family to small, sweet snacks sold by street vendors, each country and region boasts plenty of seasonal delicacies.
The most effective way to make sure that you try all of the best traditional holiday foods is to ask for input from a local. You can ask the staff at your hostel/hotel or even the server at a restaurant what dish is most Christmasy for them. Whether it's food in Chile, meals in Transylvania, or holiday treats in the many spaces in between, every region has its own holiday foods. Take some time to ask about the Christmas traditions surrounding the dish, and what memories they associate with it. This is a great way to fill your heart with Christmas cheer while also filling your belly!
3. Enjoy Hot Drinks For Cold Nights
Drinks are another great feature of the European Christmas experience. Restaurants and bars often feature hot drinks throughout the winter season and stands at the iconic European Christmas markets offer their own local spins on some classic warming beverages.
A traveler can try everything from rich hot cocoa to warm spiced wine, and many of these hot drinks are sold at the local Christmas markets in collectible mugs. In many places, when you order the drink you pay a deposit for the use of the reusable ceramic mug. The mug is decorated especially for the city's Christmas market, and the design is changed each year.
Once you finish the drink, you have a choice: do you return the mug and get your deposit back, or do you keep the mug as a lasting souvenir of your European Christmas experience? Either way, collecting Christmas market mugs throughout different cities and over the years is a popular way for locals and tourists to commemorate the holiday.
4. Plan Ahead for European Christmas Events
Many municipalities and local governments in Europe, as well as local artists and acting groups, organize events throughout the Christmas season. These events can include everything from pantomimes and puppet shows to concerts in old halls and cathedrals. Before you set out for your destination, use Google Translate or a similar tool to check the local municipality's website for any event listings. Often, the calendar is full of free events: you just have to know to show up! And even if you don't understand the language, it's easy to lean into the fun and joyful atmosphere of local Christmas traditions!
While travel blogs about holiday travel aren't always updated with each event's annual dates, be sure and confirm dates with official destination websites- like this official guide to events in London for Christmas 2022.
5. Observe A Christmas Religious Service in Europe
Even if you aren't religious, attending religious events and ceremonies, such as a nativity scene, a Christmas pageant, or a Christmas Mass, is a great way to be part of an important cultural and traditional ritual.
Many of the religious spaces in Europe are hundreds of years old, and the traditions of these spaces have shaped the culture and history of the continent. You don't even need to understand the local language to appreciate these events, and it can be a way to take a breather during the hustle and bustle of your European Christmas.
🕍 Hint: When you are traveling during Christmas or any time of year- try to time your temple, cathedral, or mosque visits with religious services. Entering the building as a congregant is free and experiencing these building filled with the voices of a choir, chanting, and/or incense make the experience of visiting much more wonderous than walking through an empty building.
6. Enjoy the Holiday Atmosphere
Just walking through the streets and shops can give a traveler a great feel for the Christmas traditions in any European destination. Many stores and businesses decorate for the holiday, so there's always something festive to see around each corner. Take some time to wander around and soak up the Christmas atmosphere, and as you do, reflect on what makes this European holiday special.
You might even find yourself looking back at your own familiar Christmas traditions, too. Find the similarities and differences in these experiences, and take a moment to appreciate what you miss back home. Then take another glance around and take some time to appreciate all that you see, hear, and smell around you. In this way, you can make the most of your European Christmas experience!
Final Thoughts:
If you're looking for a great time to travel in Europe and really soak in the history and culture, then Christmastime could be the best choice for you! There are countless Christmas traditions all over the continent, and each country has its own flair while celebrating the holidays.