Flying is in my genes ✈️👴🏼
But so are anxiety disorders. 😬
Here's how I've learned to manage as a semi-professional traveler.
In this post, I share a few of the ways that I personally deal with airport-related anxiety and a few of the techniques I learned in my training as a mental health therapist (Yes, that's my day job!) to help ease air travel-related stress.
Airport anxiety is actually very common. 1 2 Personally, my level of anxiety during flights is definitely correlated to the stress of getting to the airport, going through security, and getting through the airplane boarding process. I find that if I can manage my stress navigating the airport, I feel more relaxed on my flight.
With that in mind, here are my best tips for staying relaxed in an airport.
Triple Confirm your Travel Plans.
With all the stress of travel, it's really easy to confuse the time of your flight with the boarding time, or mix up the time you need to leave for the airport with the time that your flight departs. Because these times are so forgettable, many of us have stressed that we will forget.
I make it a habit to triple-check all of my flight details at least 48 hours before my departure. This helps me create a plan to know the exact time that I need to leave for the airport (see below) which helps me arrive at the airport with less anxiety.
✈️ On one of my very first international trips, when I was traveling with a brother, I missed a flight. Feeling overwhelmed by the fear of actively planning an international trip, I let him manage our flight information. Halfway through a tour of Parliament in London, he realized we had 30 minutes to get to Heathrow Airport!
Needless to say, despite racing to the airport, we missed our flight and I learned an important lesson about keeping everyone on a group trip accountable for time keeping. If you've never missed a flight, I hope you don't break your winning streak!
Make an Airport-Day Itinerary with Times.
I hate having to run. When I lived in Seattle without a car and relied on public transportation- I decided very early on that no bus was worth running to catch.
To avoid running and the absolute stress-fest that late arrival at the airport induces, I'm extra careful. At the very least, I try to get to the airport at least two hours before the time that my flight is scheduled to depart.
This allows me to check my bags, go through security, and arrive at my departure gate with enough time to grab a bite to eat, stretch, or use the restroom before boarding the plane. If you have kids or travel with limited mobility, you may want to allow more than 2 hours.
My flight-day itinerary looks something like this:
6:25 am – Wakeup Alarm
6:30 am – Backup Alarm
6:50 am – Uber or Lyft Arrives (generally, scheduled in advance)
7:20 am – Arrive at the airport
9:15 am – Flight Departs
Your airport might vary! Leaving from St. Louis, I can arrive at the airport with only about 70 minutes to departure and be fine. However, I've had return flights from a big international trip for which arriving 2.5 hours early landed me at my gate only moments before the doors to my flight were closed! Follow the instructions and recommended times provided by your airline to reduce stress and airport anxiety.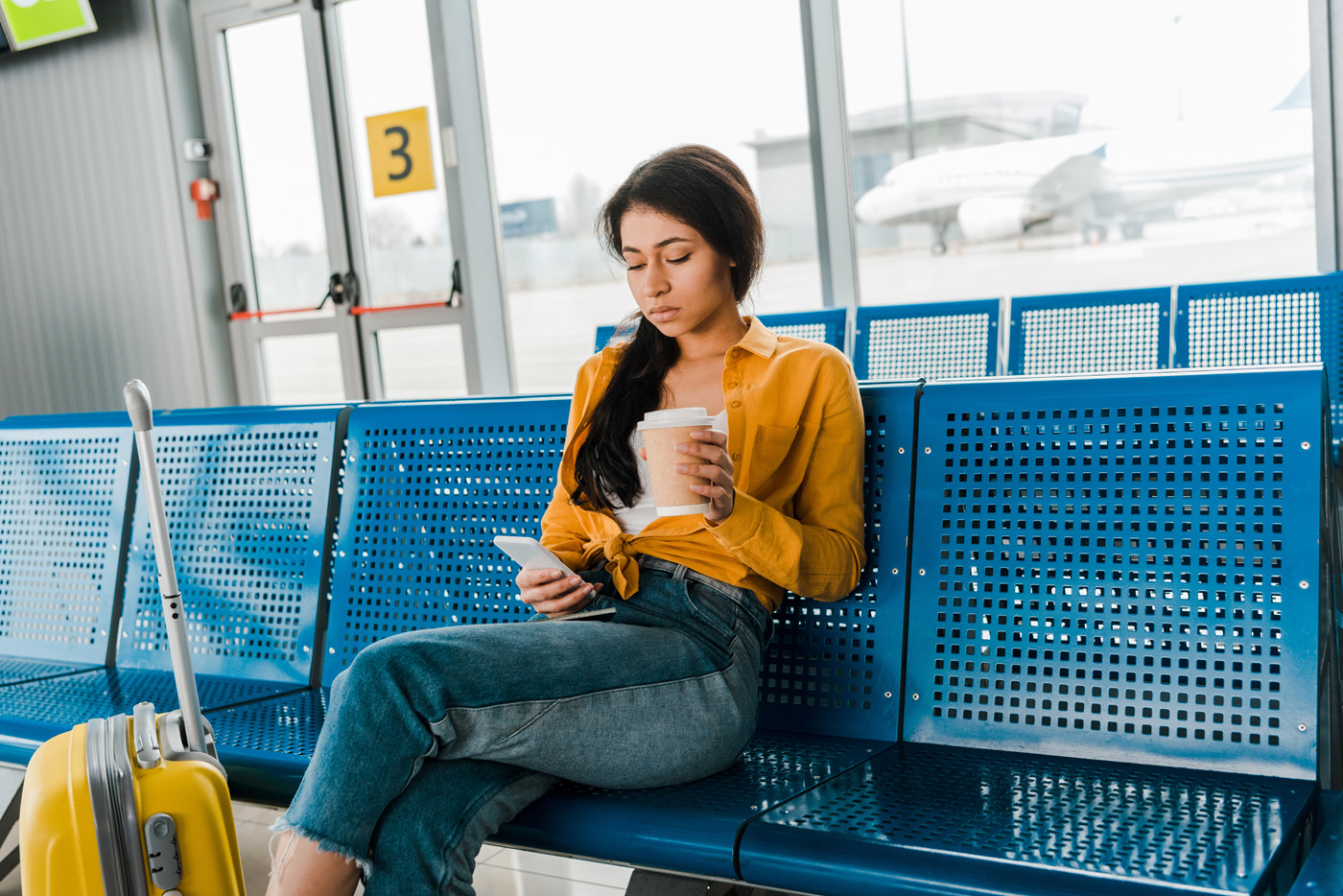 The following section may contain affiliate links. As an Amazon Associate, I earn from qualifying purchases.
Buy a Permanent Luggage Tag for your Bag & Skip Filling Out Tags.
You know those three minutes of anxiety at the luggage check line, while you race to fill out luggage tags as the line advances? That's optional stress.
If you're traveling with me, we do 👏🏽 not 👏🏽 do 👏🏽 optional stress.
If a problem has a one-time permanent solution (even if it's a small problem), I prefer to solve the problem. The solution? Permanent luggage tags. The bestselling luggage tags on Amazon are these inexpensive silicone luggage tags.
When my luggage is tagged already, it is simpler to make our way through the line- and reduces my airport anxiety just a little. It's just one less thing for me to worry about if my luggage is already packed and ready to go before I get in line.
Have a Document Organizer Ready for Security
When you travel solo, it's your responsibility to keep track of everything at the airport, so I've earned to anticipate and prepare all the documents that might be required while I am away. Similar to the last piece of advice, it's essential to ensure that all of my identification and documents are visible and in my possession.
I find that a travel document holder is the easiest way to organize my passport and other documents. I own this passport wallet that also contains space for a vaccine card and government ID.
This little tool makes it easy to breeze through the line more quickly than if I had to pull individual documents out of my wallet.
Have a Ritual for Putting Away your ID and Travel Documents.
Rituals soothe our brains. (This fact, in overdrive, explains one factor of OCD-related rituals develop) Anxious travelers can use this to our advantage when traveling.
Here's an example of how: While shoving your ID in whatever pocket is handy can be stress-inducing, here's the alternative: knowing that your ID goes in your ID holder, that your ID holder goes in the side pocket of your backpack, and that the side pocket of your backpack buckles with a clip is a pattern of predictable routine that can help when, later, an intrusive thought like "Did I put my ID away?!" pops up.
When I travel, one of the things that give me the most anxiety is the possibility of misplacing either my identification. So as soon as I pass through security, the very first thing I do is put all of the documents back where they belong, in my little babushka-inspired ritual. This way I don't have to worry about them getting misplaced.
Final Thoughts on Reducing Airport Anxiety.
Maybe these pointers won't be as practical for reducing airport anxiety for everyone as they are for me. Still, I've found that when I give myself plenty of time to get organized and don't feel rushed, I'm able to relax much more easily a the airport and in the air. I still get anxious at the airport, but when I follow these five pieces of advice, I make it to the plane with a lower stress level and am able to have a much more relaxing flight.
Want my advice on the three things I do immediately after boarding? Keep reading…
Sources
Bogicevic, V., Yang, W., Cobanoglu, C., Bilgihan, A., & Bujisic, M. (2016). Traveler anxiety and enjoyment: The effect of airport environment on traveler's emotions. Journal of Air Transport Management, 57, 122-129. [↩]
Wattanacharoensil, W., Schuckert, M., Graham, A., & Dean, A. (2017). An analysis of the airport experience from an air traveler perspective. Journal of Hospitality and Tourism Management, 32, 124-135. [↩]